/

/

6 questions with Uriah Heep: Still recording and still on the road, concert April 7 in The Woodlands
6 questions with Uriah Heep: Still recording and still on the road, concert April 7 in The Woodlands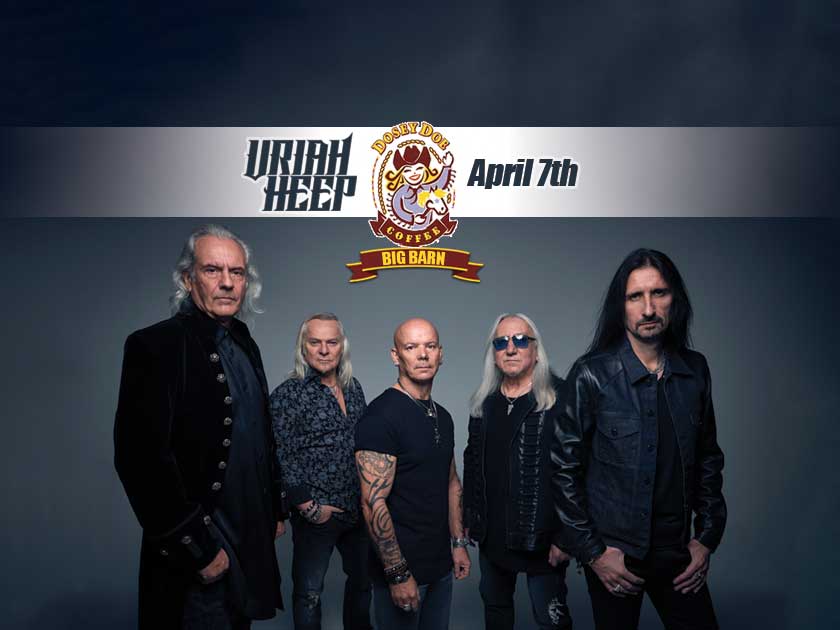 THE WOODLANDS, Texas -- Uriah Heep is one of the most notable hard rock bands to emerge from England.
They've sold 40 million albums, toured globally for five decades through 56 countries – and they were the first Western rock band to play Russia in 1987.
They're still recording, having just released a new studio album, Outsider, in June 2017. And they're still on the road.
Uriah Heep will be in The Woodlands Saturday April 7 at Dosey Doe.
"We never thought our music would last this long, but here we are," said founder/guitarist Mick Box. "What a wonderful position to be in. We've still got the same passion for our music we've always had. That's the driving force behind it."
Making up the band is Box on guitar, Phil Lanzon on keyboard, Russell Gilbrook on drums, Dave Rimmer on bass, and Bernie Shaw as lead singer. All members are also vocalists.
Woodlands Online chatted with Box over the phone from London about the band's unique name, how it all began, and what fans can expect at the show.
How did you get started in music?
I got interested in jazz guitar – Django Reinhardt, Barney Kessel, Wes Montgomery -- all those old jazz players. I started getting into a bit of rock when people like Eddie Cochran came along in the early 60's, and then of course the Beatles, Stones, Led Zeppelin, Deep Purple. It was a very exciting time. It was a very creative period in the 70's when all those bands were given the freedom to do what they like musically. I'm glad I was born when I was because I got to see all the great bands.
Your first band was Spice in 1969, and then you and David Byron evolved into Uriah Heep in 1970. Why the name change?
We called ourselves Spice because, as you know, there are many, many spices and we didn't want our music to be just one genre. Blues, rock, jazz, metal, folksy, whatever you want. But when we heard our original songs come back from the studio, we decided to add in a keyboardist to add more flavor to our songs. With that change, we decided to change the name of the band.
What is the story behind the name you chose?
In 1970, it was the 100th anniversary of the death of Charles Dickens. There were posters all over London celebrating his life – on buses and TV programs and the underground. A manager took one of us to see David Copperfield, one of Dickens' novels in a film version. He came back with the idea of Uriah Heep. When he suggested it to us, our first reaction was to be quite quite shocked. Uriah Heep looked very evil. But to take a character from a great novel, well, we just had to use that name. Turning people on to our music and to Charles Dickens at the same time! It was great.
What is it that makes your band unique from some of the others that came out of that same time frame?
One thing that really stands up apart is our five-part harmony. Most of those bands had or have just one singer, whereas Uriah Heep has five. We started to use our harmony as another instrument. That became our trademark more than anything I think. For some reason, I have the high harmony. That's where my voice sits. Low, it doesn't sound so good. I couldn't do a Johnny Cash song.
Do you ever get tired singing the same songs over the years?
No, because we're energized by the audience. When we play our songs -- say Gypsy, or Stealin' or Easy Livin' -- the minute the fists go in the air and the smiles go on the faces, you're totally energized and it feels new again.
What can we expect to see here in The Woodlands when you perform?
A good, honest, Uriah Heep rock and roll show. We tend to start from our first studio album and play various tracks through our whole career up to our last studio album, Outsider. The Demons and Wizards album (1972) is the one that put us on the world stage, to be honest. The show is good journey through our career.
Tickets to the music and dinner show are available at www.doseydoetickets.com.