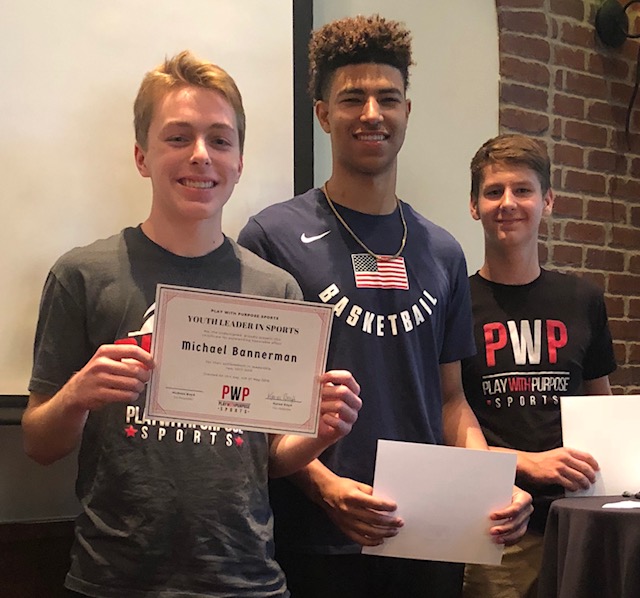 MONTGOMERY COUNTY, Texas -- Two amazing young men got the opportunity to share the many things they love about the game of basketball and their vision of what it means to be a leader at the LEADERS IN YOUTH SPORTS EVENT hosted by Play With Purpose Sports this month.
With the help of others, Play With Purpose Sports is able to raise money for orphans, foster children and those with cancer or other childhood diseases. The amount that they have given back to the community is astounding and only continues to grow. Even the number six high school recruit in the nation sees the amazing things they are doing and helps any way he can.
Quentin Grimes was recently awarded Gatorade Player of the Year Award and awarded Play With Purpose Sports with a grant that will help change lives through athletics.
"Gatorade is proud to award Play With Purpose Sports with a Play it Forward grant on behalf of Quentin Grimes," says Forrest Johnson, Assistant Marketing Manager for Gatorade Player of the Year. "We look forward to seeing Play With Purpose Sports continue to positively impact the youth of their community."
Co-Founders Karen Boyd and Hudson Boyd express: "We are beyond excited to receive the Gatorade Play it Forward Grant designated to us by Gatorade POY, Quentin Grimes. Quentin truly represents the character of who we are as an organization--true to the sport he plays, leads with integrity and excellence, and keeps his eyes on the bigger vision. It is such a privilege to use this grant to further our mission, which is all about playing if forward and bringing light and hope to children in need while developing leaders in youth sports."
The LEADERS IN YOUTH SPORTS event honored athletes that have raised thousands of dollars for children less fortunate. In addition to this, the athletes were recognized in their participation for hosting shoe drives, feeding Hurricane Harvey Victims, and brightening the days of children with cancer by Christmas gift baskets. Quentin spoke to young athletes about the disciplines required to achieve beyond the masses. College Park freshman and Co-Founder, Hudson Boyd shared about leadership and making a difference that outlasts yourself and your game. Play With Purpose Sports empowers athletes to use their gifts and talents in sports to bring light and hope to children in need.