/

/

The Woodlands Arts Council honors David Feranchak with Outstanding Teacher Award
The Woodlands Arts Council honors David Feranchak with Outstanding Teacher Award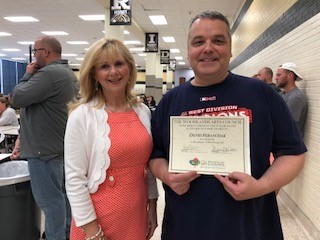 MONTGOMERY COUNTY, Texas -- David Feranchak, the Chairman of Conroe High School's Theater and Fine Arts Department, was recently honored by The Woodlands Arts Council (TWAC) as the recipient of the 2018 Dr. David Gottlieb Outstanding Teacher in the Arts Award.
The Woodlands Arts Council is a 501 (c)(3) nonprofit organization whose mission is to provide regional cultural and educational enrichment opportunities that encourage, support and promote the performing and visual arts in our community.
The $2,000 scholarship has been awarded to outstanding educators in the fields of the performing and visual arts since 2009. The award was named in honor of Dr. David Gottlieb, one of the founders of The Woodlands Arts Council and a patron of the arts in The Woodlands area.
This scholarship is awarded to faculty who are creating an environment that encourages students toward self expression through the arts.
The recommendations included in the nomination said that Feranchak has been a positive role model for his students since joining the faculty at Conroe High School in 2000.
"We are pleased to recognize a teacher who demonstrates excellence in his field, exceptional leadership and a high level of dedication to his students," said Deb Spiess, President of The Woodlands Arts Council Board of Directors.
In his application, Feranchak shared that the most exciting aspect of being a theater arts teacher is the completely different focus. "In educational theater, the impetus is student growth and helping them mature into model citizens," he said. "It is about making them better human beings."
The award was presented to Feranchak by Maria Holmes, Vice President of The Woodlands Arts Council, at an assembly at the school in late May.