/

/

Wisdom from Women in The Woodlands: Meet Ally Seder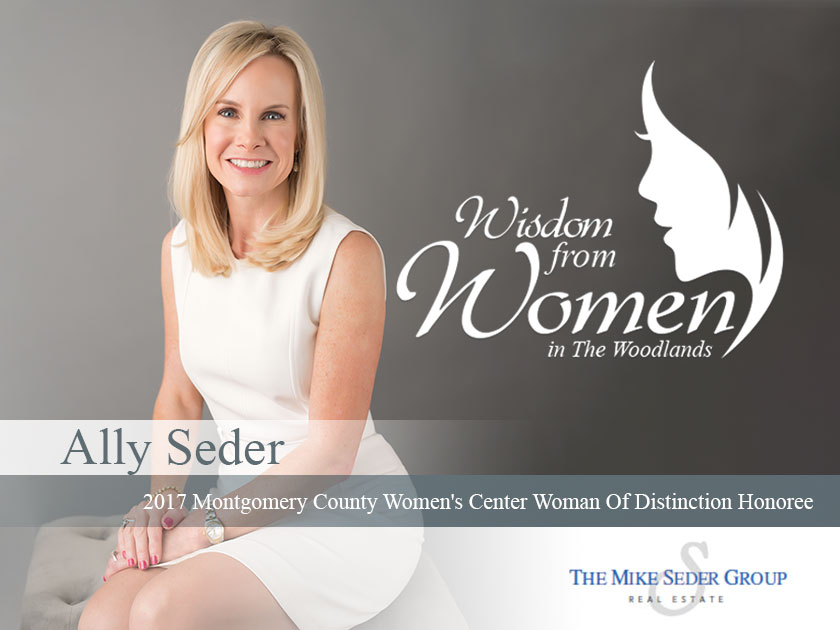 THE WOODLANDS, Texas – Business savvy and volunteer driven, Ally Seder has had a huge impact in The Woodlands community, perhaps most notably with the Montgomery County Women's Center.
'I have to have a personal connection to a charity I'm involved in.' Ally Seder
"My mom was abused by her dad, and then my dad was abusive to my mom," Seder said. "He was an alcoholic – he's changed a lot since then – he quit drinking after my daughter was born. After my mom left him, she volunteered at a women's shelter in Boston, and I would go with her."
Seder has now been a volunteer at the Montgomery County Women's Center for eight years.
"Before I volunteered there, I wanted to learn more about it," Seder said. "I had never been to the shelter, so I went for a tour. I walked through a 'store,' which is basically a large room, with bathrobes, shoes, clothing, makeup … and saw that every woman who comes in gets a package with these things, because so many of them come with nothing. They escape with their lives."
Seder is currently vice chairman on the board of directors, and was chosen as the Montgomery County Women's Center Woman of Distinction in 2017. She also launched and chaired the "Open Your Purse for Change" fundraiser, a campaign that encourages donations of new and "gently loved" purses which are then auctioned off during an event that now draws in more than 200 people a year.
"I had been to an event in River Oaks (Houston) called Heroes & Handbags, benefiting kids with cancer, and I thought 'we can do something like this in The Woodlands'," Seder said. "I thought I'd be going around to stores and collecting purses, but was turned down left and right in the Galleria. A friend of mine, Shirelle Chimenti, said 'you're going to have to get them from women in The Woodlands community.' She gave me my first purse, a Jimmy Choo bag. And that's how it started."
Open Your Purse for Change will be in its sixth year next February. The 2018 event raised more than $117,000. For more information, visit mcwctx.org.
Seder has also served on boards or volunteered for event committees benefiting The Pangea Network, Texas Children's Hospital, Angel Reach, New Danville, The Woodlands Young Learners Academy and The John Cooper School.
Originally from Boston, Seder attended Amherst College, where she graduated with a degree in Spanish.
"I thought about working at the United Nations because languages come very easily to me, but at the time I wasn't very interested in world affairs," Seder said. "Now that I'm older, of course I am more interested. I also thought maybe I would be a professor. I ended up becoming an interpreter, and had my own interpreting business for a while."
As an interpreter, Seder worked in a wide variety of industries, sitting in on meetings with her clients as they conducted business transactions and helping at tradeshow events.
Seder found her way to The Woodlands in 1994, where she met her husband Mike. Together, they own The Mike Seder Group Real Estate Company.
"When Mike and I met, I was working for a pharmaceutical company, so I was gone a lot," Seder said. "When I had my daughter, I stayed home with her until pre-school, and I told Mike I wanted to go back to work. He said 'come work for me, or I'll never get to see you.' We weren't sure how it was going to go. We actually work really, really well together, and that's a good thing."
Seder was the marketing director for about 10 years before she decided to get her real estate license.
"That next step just seemed obvious," she said. "It's so much fun – it's like a treasure hunt. I get such a kick out of finding somebody that home on their wish list."
And being bilingual, Seder is able to take her volunteerism and business acumen to the next level.
No matter the language, Seder's words of wisdom for women is universal.
"Find what what moves you, and then do what you can to help," Seder said. "It comes back tenfold. You gain so much more than you give."