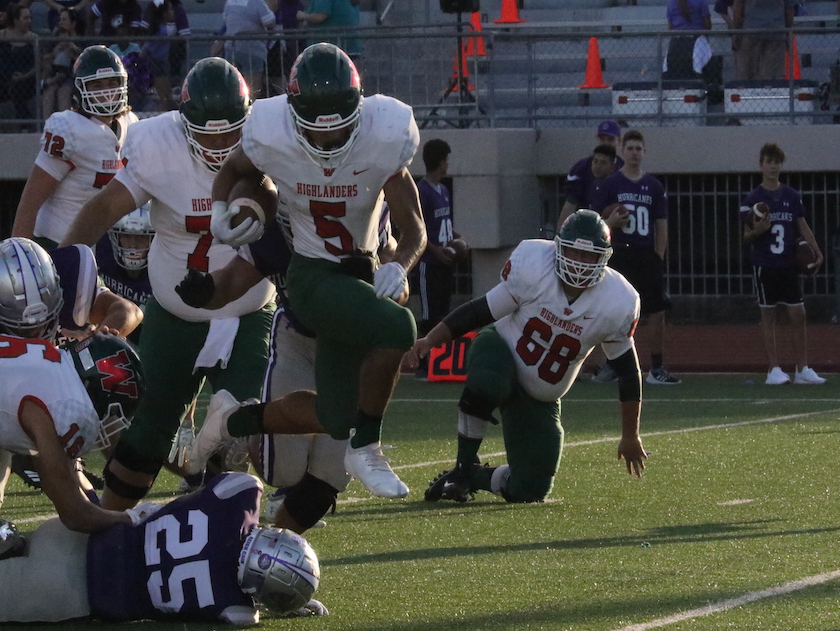 THE WOODLANDS, Texas— The Woodlands Highlanders remain unbeaten in District 15-6A after their 54-7 win over Klein Cain. The Highlanders get their fourth straight win of the season after beginning the 2018 season 0-2. The Woodlands will host Klein High School at Woodforest Bank Stadium Saturday Oct. 16.

The Highlanders opened the scoring with a Casey Sunseri pass to P.J. Villarreal on their first offensive drive. The Highlanders wouldn't have to wait long for their second score, as Carter Doucet picked off Klein Cain and returned it 61-yards for a touchdown. The first half scoring would come to a halt for The Woodlands after a Fabrizio Pinton field goal in the second quarter.

Klein Cain scored their only touchdown of the game when a Casey Sunseri fumble was returned 58-yards for a score. The Hurricanes, who are in the middle of their first ever varsity football season, were able to hold the Highlanders to 17 points in the first half.

The Woodlands started to click as soon as the second half kickoff, scoring 16 points in the first two minutes of the half. Highlander junior Malik Johnson scored the first with a five-yard run, and on the ensuing kickoff, the Hurricanes returner was called for a safety. Less than a minute later, Bryeton Gilford brushed off a couple would be tacklers for the 46-yard touchdown.

The Highlander defense also hit another gear after the half, forcing two more turnovers before game's end. Carter Doucet fell on Klein Cain fumble, setting up a Jacoby Clare touchdown. The next drive saw another Klein Cain turnover when Highlander senior Austin Winfield intercepted quarterback Luke Pardee.

The Woodlands scored 40 unanswered points as the Highlanders cruise to their fourth straight win. Our Live Broadcast was brought to you by Texas Tiny Homes Solutions with replays presented by Memorial Hermann The Woodlands Medical Center.