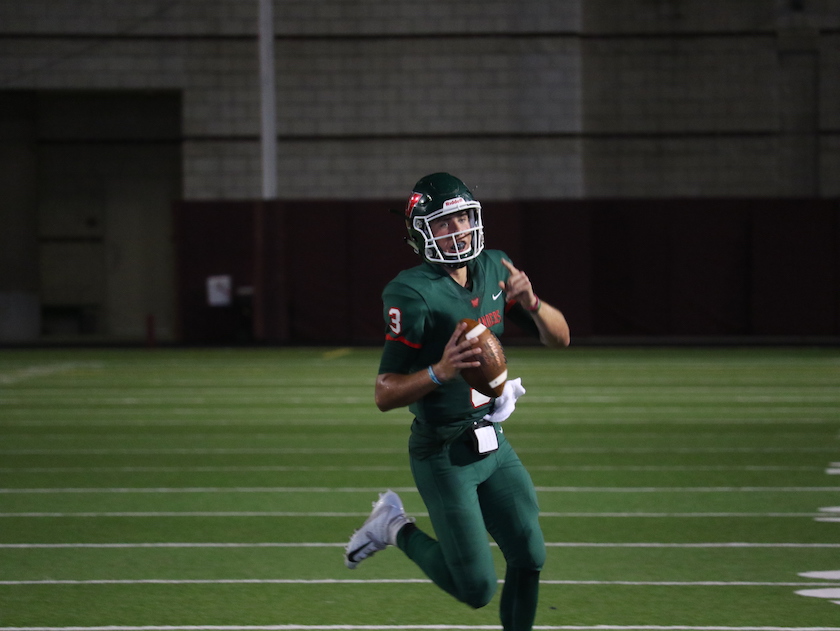 THE WOODLANDS, Texas— The Woodlands Highlanders continued their winning ways Saturday night against district opponent Klein. The Highlanders pushed their winning streak to five games after the 23-7 win over the Bearkats.

It didn't take long for The Woodlands defense to make an impact on the game as Ben Langston intercepted Klein quarterback Bryce Corriston's pass on the opening drive. After a defensive stand from the Bearkats, the Highlanders settled for a Fabrizio Pinton field goal for the first points of the game. Klein held The Woodlands and their explosive running back Bryeton Gilford in check for most of the first half. Pinton would nail a 45-yard field goal at the end of the first quarter, bringing the score to 6-0 in favor of the Highlanders.

Highlander senior quarterback Casey Sunseri was finally able to gash the Bearkat defense in the second quarter with a 15-yard touchdown pass to Cole Dodson. Halftime would bring the rolling Highlanders offense to a halt, but quickly started where they left off with another Sunseri touchdown pass. This time to junior wide receiver Malik Johnson. Klein would get on the board shortly after with a two-yard run from D'Anthony Simms. It wasn't until late in the fourth quarter when the Highlanders would add another score, as Pinton hit his third field goal of the night, bringing the score to a final 23-7.

The Woodlands now sit at a cozy 5-0 in district, tied with Klein Collins for the top of District 15-6A. The two will meet on November 2 at Woodforest Bank Stadium. Next week's matchup for the Highlanders will see an old rivalry renewed with the Conroe Tigers.

Our Live Broadcast will be brought to you by Memorial Hermann The Woodlands Medical Branch with replays presented by Hal Watson Air Conditioning.