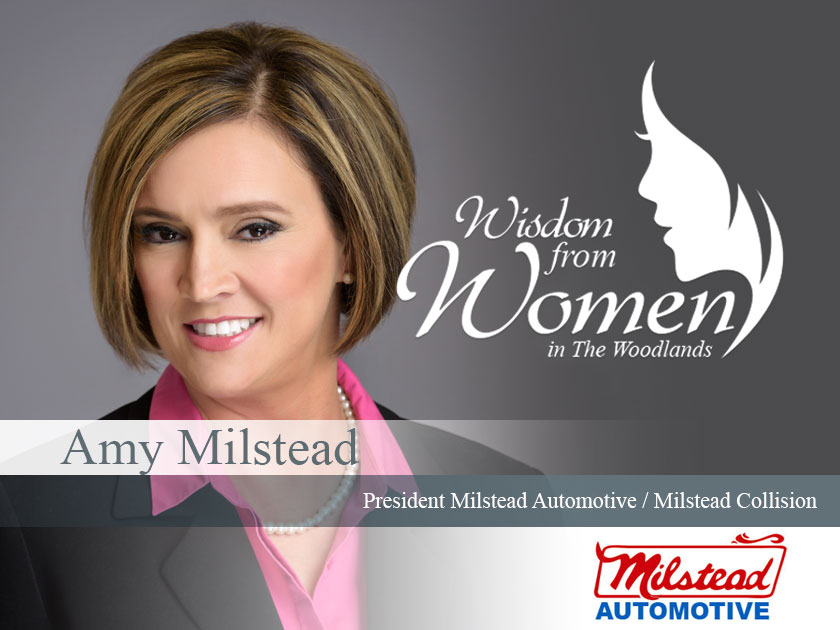 THE WOODLANDS, Texas – Amy Milstead grew up as the daughter of an automotive businessman -- and as the only female of seven siblings.
'I was taught by my father to give back to the community.' Amy Milstead
"I know some automotive stuff – what this noise means or what that noise means – but I'm happy on the business/operations side of things," Milstead said. "I don't work on cars, but I can run a business."
Milstead began working for the family business when she was 13-years-old, and is now president of
Milstead Automotive
.
On Nov. 1, the Greater Houston Women's Chamber of Commerce will honor Milstead with the 2018 Trailblazer Award at its Woodlands North Houston Conference for Women.
"It's an honor to be awarded like this," Milstead said. "I know so many women in the community who I look up to and who I admire who have received this in the past."
Milstead said she would have never thought her career path would be what it is today, but she's thankful it is.
"I'm second generation in the business," Milstead said. "My father (Dick Milstead) is the founder and he opened the business 46 years ago. I have six brothers. To this day, myself and my youngest brother work in the business. I never saw that coming. It was a job sweeping floors or answering phones when I was younger. And here I am now. It just makes sense."
Milstead said her father's influence has been key to growing the business.
"One thing I admire about my father is he was always looking at new things. I want to follow in his footsteps and keep that going," she said. "We're always trying to stay ahead of technology, so we're investing in looking into self-driving cars and what can we do to take care of that sector. We're going to have self-driving tow trucks one day. It's exciting."
Milstead said her dad pops in a couple days a week. Family time is important to Milstead, a mother of two and grandmother of one.
"We make time for family," she said. "We just love it."
Milstead's words of wisdom to businesswomen in the community:
"I was taught by my father to give back to the community," she said. "It may be something as small as helping a single mom with her car, or it may be a giant sponsorship. You have to be involved in your community, you have to give back to your community, because at the end of the day that's where your customers are coming from."