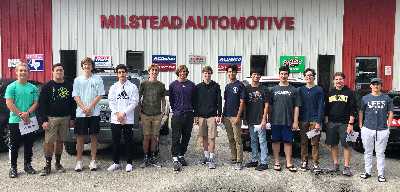 THE WOODLANDS/SPRING, Texas – January 24, 2019 – How do I check my oil or change a flat tire? Milstead Automotive answered those questions and more, as they again recently hosted the National Charity Roundtable Car Care class for members from around Montgomery County.
Attending the Milstead Automotive Car Care clinic teaches young drivers how to maintain a safe vehicle that will keep them safe on the road.
"We touch on a lot of different aspects of car care from maintaining your vehicle to what you can check yourself. Having the car on a lift makes it easy for the guys to see what is going on and where to look. We believe good maintenance is key," noted Milstead Automotive Service Advisor Gregg Bruce who taught the class. "We also teach the kids that you can check your fluids like the oil, transmission, antifreeze/coolant, washer fluid and battery. And you can check your tires to see if they are over or under inflated."
He continued, "your owner's manual gives you a recommended maintenance schedule, but if your vehicle is shaking, it could mean several things and it's a good idea to bring it in. Our Texas weather with wet roads and extreme heat makes it very important that you pay attention to your car and when that time comes, it makes sense to choose a AAA approved auto shop with an A+ Better Business Bureau rating like Milstead Automotive."
Amy Milstead, President of Milstead Automotive Group also commented that "Milstead Automotive has been conducting young drivers' workshops for years, and we also promote a Lipsticks & Dipsticks program especially for teenage girls and women. Our focus is safety and if we can help keep our drivers safe, then we have done our job!"
National Charity Roundtable (NCR) is a non-profit organization in which young men work with their parents to volunteer in the community serving area philanthropies. NCR offers great opportunities for involvement and for enrichment of skills as young men grow from 7th grade junior high school through 12th grade, on their way to college. Questions about NCR may be sent to NCRTheWoodlands@gmail.com
For more information about scheduling a Milstead Automotive Car Care Clinics call 281.267.3535.
About Milstead Group
Milstead Group owns Milstead Automotive, Milstead Transmission, Milstead Fleet Services, Milstead RV Repair, Milstead Towing and Milstead Collision.
Milstead Automotive is a family-owned and operated, full service automotive & collision repair facility servicing the areas of Montgomery and Harris County. The company was founded in 1971 by Dick Milstead where he offered customers honest, quality auto repair from his 2-car garage. Since that time, the business has grown into a 29-bay facility where customers can be assured that Milstead's updated technology fits todays smarter vehicles whether foreign or domestic, large or small.
Milstead also has the largest fleet of towing and recovery vehicles in Montgomery County and has updated GPS dispatching 24 hours a day 7 days a week.
Milstead Automotive offers a variety of Fleet services to keep those vehicles moving. The wide range of services span from Pick Up & Delivery, Computerized Fleet Management, and Scheduled Preventative Maintenance to Hydraulic Service/Repairs, Jump Starts Maintenance & Priority Scheduling Mechanical Repairs and 24-Hour Dispatch . . . and a whole lot more.
If a truck is stuck on the side of the road, the Milstead Automotive Mobile Fleet Services department has ASE certified technicians ready and waiting for the call. The fleet of vehicles is equipped with Truck-Mounted Compressors, Generators, Welder, Jump Start Ports. Fully Functioning Vise, Oil Dispensing/Retrieval System, Power Inverter, Tire Repair/Replacement Tools, Latest Diagnostic Tools/Software, Pneumatic Air Tools, Traffic Control Lighting, Hydraulic Hoses that are Custom Made, Common Repair Parts Stocked, ASE Certified Technician/Advisors, and CDL Drivers.
Dick Milstead's legacy continues as his daughter, Amy Milstead, and youngest son, Rick Milstead, work diligently to keep "Milstead" in the forefront of the automotive industry. Amy Milstead's achievements includes Leadership Montgomery County 2003, Past Chairman of the Board for Texas Towing & Storing Association (TTSA); Vice Chair, Texas Department of License Regulations; Towing & Storage Advisory Board and served as Chairman of the Board for The Woodlands Area Chamber of Commerce for the 2013-2014 term.
Milstead Automotive earned Best of the Woodlands, Best Car Repair 2018 and Best Collision Repair 2018 and is a member of ATRA. Milstead Automotive is also a Bosch Authorized Center and a AAA Approved Repair Facility with an A+ BBB rating. Milstead Automotive and Collision technicians are ASE and I-CAR certified and receive continued education to stay up to date with technology to ensure proper repairs.
For more information visit www.milsteadautomotive.com or www.milsteadcollision.com