/

/

Come for the actor, stay for the music with Dennis Quaid and the Sharks tonight at Dosey Doe
Come for the actor, stay for the music with Dennis Quaid and the Sharks tonight at Dosey Doe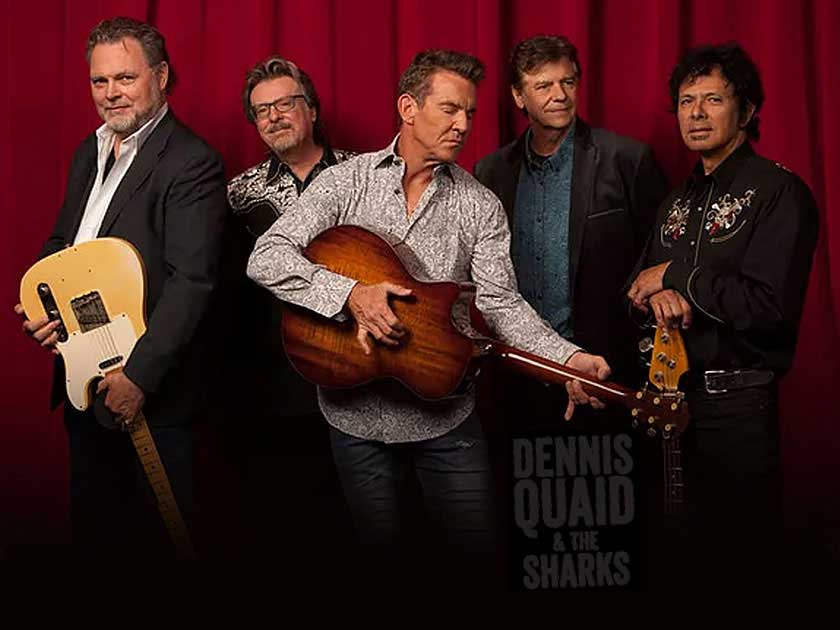 THE WOODLANDS, TX -- People of The Woodlands, prepare for a tremendous evening at Dosey Doe tonight. Celebrity Dennis Quaid is no rookie to music making. Over the last 19 years together, Dennis Quaid and the Sharks mastered the sounds of Americana music. You won't want to miss this show.

Dosey Doe brings in big names to provide outstanding entertainment. Dennis Quaid represents the epitome of a big name! No doubt you've admired Quaid throughout the years for his incredible acting talent. You won't get any less from him in the musical arena.

Music was no afterthought for Quaid, who has been playing music since he was a child. "Music was actually my first love," Quaid said. "Music was always there, and, indeed, it came into my acting career in movies like 'The Night the Lights Went Out in Georgia' and 'The Big Easy,' and I've written a lot of songs for soundtracks."

A natural-born songwriter, Quaid affectionately describes his innate talent as an affliction. "I've been a songwriter all my life really," Quaid said. "I hear tunes in my head, which leads to words in my head, and I can't get rid of it until I've finished it."

As a high-profile celebrity, Quaid attracts a lot of attention. "I always say 'come see the actor and stay for the music.' We have a money back guarantee if you don't have a good time too," Quaid said as he chuckled.

This kind man with a wonderful sense of humor just wants to give his fans a fantastic experience. The goal at each show for the audience is summed up in one word: fun. "I want them to forget about everything that happened that week, and let their hair down, stand up, have some fun. And I just want them to have a good time. They paid their hard-earned money to come there," Quaid said. "They deserve to have a good time."

If you aren't familiar with the band's music, Quaid describes it himself. "We are a junkyard of American music, but now they call that Americana. But we're rock and roll, and blues and country very heavily," Quaid said. "We just embrace styles." The band incorporates a taste of lounge and reggae, throwing in a bit of Frank Sinatra flair.

Quaid is a Houston native. Growing up in this diverse area, he received much exposure to an enormous variety of music. When asked about his favorite kind of music, Quaid put it simply; "Good music." Not just good, but great music is what you'll hear from Dennis Quaid and the Sharks.

His three children are very much a part of his life. They top his list of the things he loves, along with his miniature English bulldog, Peaches. Flying is also a passion for Quaid, who is a pilot. He'll be flying right seat in the plane from Austin to Houston today. Quaid describes himself as an amateur astronomer with plenty of other interests. "It's hard for me to focus. I think I probably have ADD," Quaid said jokingly. "But if I find something that I like, I just learn everything about it."

Holding jobs as a waiter, a construction worker and as a Fuller Brush salesman, Quaid can relate to the daily grind. Now that Quaid has a firm grip on his musical career, he's having a blast. "I'm loving what I do for a living. I feel very grateful," Quaid said.

Nineteen years ago with the band's outset, they played 75 percent covers and only 25 percent original pieces. Tables have turned. Now you'll hear 75-80 percent of their output as original hits. Quaid's dream of having one of their songs featured in a Pixar film is dear to his heart. With this in mind, Quaid wrote the catchy tune "You're So Fine." Romance with his girlfriend inspired the lyrics for the song, but the target was producing a sound and vibe matching the feel of a Pixar flick. "It was like a story between a dog and a cat marooned on an island. That's them, paw-in-paw, skipping down the beach at the end," Quaid said. He isn't giving up and hopes this song will be singled out for film usage in the near future.

These five men have years of past experience, and they've built on that since getting together in 2000. Though they've always been serious musicians, only a few years ago did they decide to take the next step into record production. Over a period of about six months, the musicians cut 25 tracks and immersed themselves in the project until the album was just right. Their first studio album, "Out of the Box," was released November 30, 2018. The vinyl is coming out next month. "We're gonna be the oldest guys to make it in rock and roll," Quaid said.

His acting career isn't over as he has three movies coming out soon. "I'm currently wrapping my movie career around my music career, paying more focus to my music," Quaid said. With some tickets remaining, you still have the chance to feel the energy Dennis Quaid and the Sharks radiate in this very up close and personal event tonight at Dosey Doe. Tickets can be purchased at the door starting at 6:30 p.m.