/

/

Montgomery County Regional Auto Theft Task Force: Operation 'Price is Right"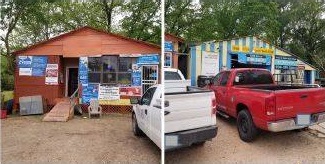 MONTGOMERY COUNTY, TX -- On April 3, 2019, The Montgomery County Regional Auto Theft Task Force, The Walker County Sheriff's Office, Huntsville Police Department, Texas Department of Public Safety
Criminal Investigation Division and The National Insurance Crime Bureau conducted an investigation into the business of The Price is Right Auto Sales and Amazing Favor Africian Palace Market located in the 2900 block of Sam Houston Avenue in Huntsville, Texas. The investigation found that the business owner had sold approximately 448 illegal paper license plates, and 429 illegal dealer license plates.

During the investigation, the business was also found to be selling illegal fish without a license, and a TExas Game Warden was called to investigate. The City of Huntsville Fire Marshall, Health Inspectors and Building code inspectors were also summoned to the scene due to the conditions. As a result of their investigation, the City of Huntsville condemned the building.

This illegal operation not only defrauded the public, but it also put dangerous vehicles onto the roadway that posed a danger to other motorists. This is an ongoing investigation, and multiple charges are pending against the business owners. The Auto Theft Task Force will continue to investigate fraudulent issued paper tags in their eight county coverage area.

"I am extremely proud of the partnerships we've developed working with the Regional Auto Theft Task Force and the impact those relationships are having in our community." Sheriff Clint McRafe, Walker County Sheriff.

"This investigation is yet another example of the combined effort among our law enforcement partners, and the success these partnerships have in removing crime from our communities" Sheriff Rand Henderson, Montgomery County Sheriff.