/

/

Art lovers swarm to The Woodlands Waterway 2019 Arts Festival and are not disappointed
Art lovers swarm to The Woodlands Waterway 2019 Arts Festival and are not disappointed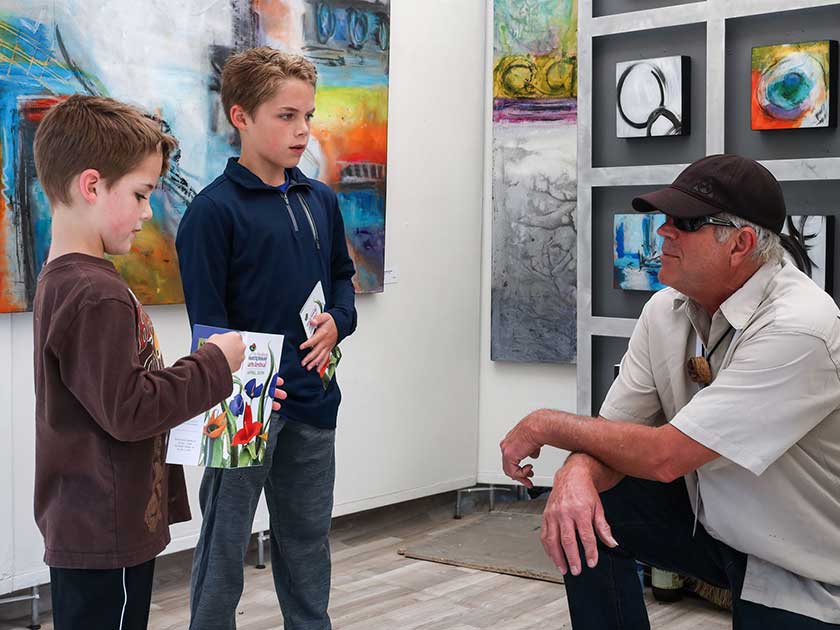 THE WOODLANDS, TX -- The Woodlands Waterway Arts Festival is considered one of the best in the nation. The 2019 festival was held the weekend of April 13 and 14. This year's event is now wrapped up. If you didn't have the privilege of attending, read on to educate yourself about what makes this festival so significant. You won't want to miss your opportunity to be a part of the fun next spring.

The work of over 200 artists, displayed throughout Town Green Park and along the waterway, drew loyal art fans from The Woodlands and beyond. After the great lengths artists went through to be present, some may have had legitimate concerns about the turnout upon hearing the weather forecast.

Despite the weather's contribution of rains and thunderstorms, the festival boasted an attendance of approximately 11,000 people this year. Philip Edgerton, an artist who makes industrial touch lamps from reclaimed automotive and industrial parts, has been a participating vendor in 20 art festivals over the last three years. This was his first time at an outdoor show. "I was really surprised to see people rally because this morning it was not looking good," Edgerton said Saturday, clearly pleased with the support given the festival during less-than-ideal weather conditions.

The annual event is good fun for the whole family. Artopoly, a tent full of art activities for children, gave young ones a chance for hands-on experience. The Art of Food tent showcased top chefs' demonstrations, cooking tips and tastings. Performances at several festival stages incorporated the art of music from many talented musicians. Some attendees chose to sit and rest while others danced or listened as they browsed the visual arts.

The quality of art available at this festival exceeded most art shows. To ensure the outcome of an outstanding fine arts festival, The Woodlands Arts Council has a jury process for artists before they're accepted into the event. The variety of art media present for viewing and purchasing was astonishing. A sampling of the art on display included clay, digital, fiber, sculpture, glass, metal, paintings, photography and wood.

Artists engaged the children in attendance in conversation centered on art and asked questions about what interested them. "Many of the artists wanted to educate and inspire the kids going in," said one mother who brought her two children along. "They took the time to explain their art process and tried to stir interest in art within them."

One 10-year-old boy initially didn't want to attend with his family. After just a short while of inspecting the art and speaking with artists, his tune changed. He not only wanted to purchase art for himself but also said he "wanted to be taught by some of the artists." This nicely illustrates the impact possible from attending The Woodlands Waterway Arts Festival.

Children gathered around a booth featuring metal art shaped into fabulous creatures. "I make stuff out of other people's junk and turn it into treasure," said Fred Conlon, a recycled metal artist. After speaking with him, the reason for the attraction became apparent: Conlon receives inspiration for his creations from his four children. The result is decorative art pieces resembling animals and other critters bringing the young and young-at-heart delight in their new recycled form.

The seemingly endless row of booths stretched along the waterway. Each one displayed unique and beautiful pieces of art. Budding artists, experienced artists and non-artists were all among those who purchased tickets to attend. Thousands relished this feast for the eyes and other senses.

With so much to see and do, a full day was required to take it all in. Even for those whose schedule only permitted a couple of hours at the festival, every moment there was worthwhile. Whatever the length of stay, hunger was not an issue. Food and drink opportunities from wine, craft beer, margaritas inside the Spotlight on Mexico exhibit and food trucks were scattered throughout the festival grounds.

Festival proceeds enable The Woodlands Arts Council to support young artists both through awarded scholarships and by bringing visual and performing arts opportunities to seven economically-challenged schools in Montgomery County. Funds are also used to create meaningful art experiences in the lives of senior citizens and those with special needs.

"We awarded approximately $18,000 in student scholarships this year. The amount allocated to economically disadvantaged schools and our other outreach programs will be determined when we plan our annual budget after the festival," said Susan Vreeland-Wendt, secretary of The Woodlands Arts Council, commenting on the accomplishments for this year's festival. "We consider it a tremendous success based on the quality and variety of art and music, addition of our very popular Spotlight on Mexico exhibit, participation in Artopoly, Art of Food and Community Art Projects, attendance and response to the Art Dash Pre-Festival Party, positive comments from artists, sponsors, patrons, volunteers and performers. We are very thankful for our exceptional staff and volunteers who coordinate all the many logistical aspects and, of course, to our sponsors who give so generously to support the arts in our community."

Make plans to attend The Woodlands Waterway 2020 Arts Festival next spring. Your entire family will cherish the experience! It is one of the most relaxing and inspiring ways to spend a day.

Credit for all photos goes to JDHallett Photography.