/

/

Crime of The Week in Montgomery County - Help Identity Suspect in Stolen Vehicle
Crime of The Week in Montgomery County - Help Identity Suspect in Stolen Vehicle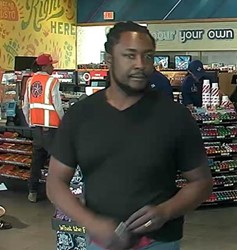 MONTGOMERY COUNTY, TX -- Multi-County Crime Stoppers is working with the Conroe Police Department seeking help in identifying a suspect involved in a stolen vehicle.

On April 4, 2019 the Conroe Police Department began investigating an auto theft that occurred at the Wiesner car dealership. The stolen vehicle was later recovered in North Houston by Auto Theft Detectives. Conroe Police Department is seeking the public's help in identifying the subject in the below photo.

If you have information that leads to the identification and subsequent arrest of this subject- you could be eligible for a cash reward. To remain anonymous and be eligible for the reward, please contact Crime Stoppers and refer to Conroe Police Case #19040140.