/

/

Concert Review: Alicia Witt at Dosey Doe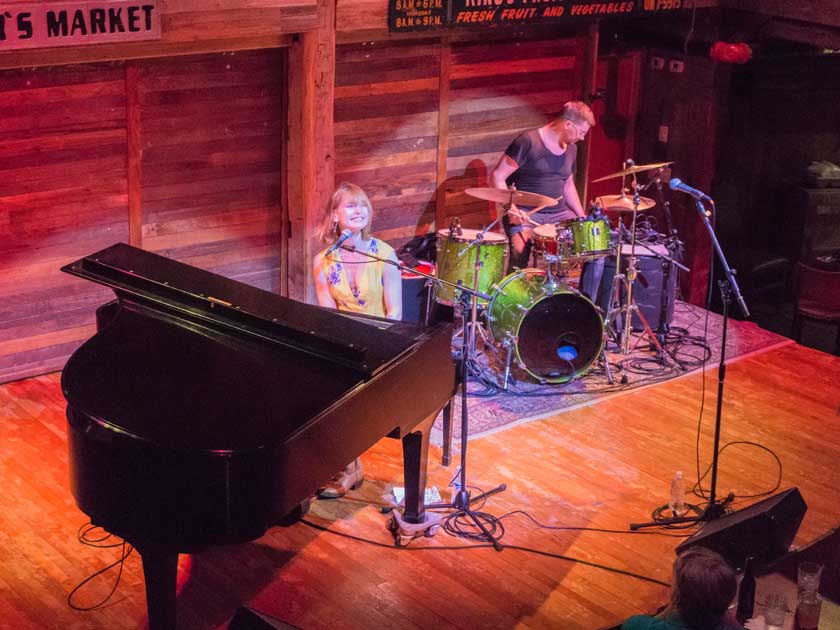 THE WOODLANDS, TX -- I can safely say most of you reading this article missed out on an excellent performance by Alicia Witt at Dosey Doe last Friday, May 17. The historic barn, which serves as a near-perfect acoustic experience, often draws big names and big crowds. Friday's show certainly brought in a famous, talented musician, but the crowd was sadly missing.

With so many empty seats, the small audience had the treat of a very intimate and unique performance, surpassing expectations. Alicia Witt, acclaimed actress and singer-songwriter, stepped onto the stage in her yellow flowered dress and cowgirl boots and delivered a stellar performance from start to finish. The memorable evening felt much like a private event held for ticket holders.

Witt, who's played piano since age seven, was described as a child prodigy for her skills as a pianist. She now combines those skills with her other talents of both singing and songwriting. The year 2018 brought her fourth release as an independent songwriter with her album "15,000 Days." The Woodlands was one stop on her 19 city tour.

Dosey Doe provides use of their house piano for musicians who choose to use it. Witt gladly took the opportunity to give up her keyboard for the night and play at the piano with none of her usual worries about the pedals slipping underfoot. Lemuel Hayes, described by Witt as "drummer, driver-extraordinaire, teller-of-puns, and outstanding photographer," nailed the percussion tracks contributing to a stronger quality of sound for Witt's piano-driven rock.

After finishing only one song, Witt smiled widely, testifying to the truth of the amazing acoustic sound produced within the walls of Dosey Doe's Big Barn. With such impressive acoustics, Witt desired to take Dosey Doe along with her for the rest of the tour.

Writing songs full of relatable life experiences, which Witt herself has jointly encountered, pulls Witt into her music in a meaningful way. A palpable passion and soulful tone to Witt's performance was seen, heard and felt by the audience.

A crowd favorite for the evening was the hit "Consolation Prize," which had a fuller sound than the preceding songs. Many tunes from the newest album "15,000 Days" were mixed with well-known hits and also unreleased songs.

Who would have thought a musician's pet would actually have a favorite song? Ernest, Witt's beloved dog, is partial to Witt's unreleased song "Any Midnight," which was among the songs played as a piano solo without the drummer.

Between the stories told, interchanges with the audience, and the limited number in attendance, Witt said the performance "felt like a living room show." Two women in the audience were celebrating birthdays. Both of them received a personal performance as Witt, accompanied by her piano, sang "Happy Birthday" twice in a row (each time with a different flair). Upon hearing Witt's music for the first time, one person at the show commented that it sounded reminiscent of Sarah McLachlan's hits in the '90s.

The set was played with no intermission for approximately two hours. Each beautiful song was followed by yet another enchanting song, causing the night to pass quickly. A very refreshing difference to the performance was appreciated as Witt informed the fans of her decision to skip the mock exit and following encore performance of a song or two generally expected at a concert. Instead, she simply played a few more welcomed songs, ended the spectacular performance, and stayed around to mingle.

Gems, such as the Alicia Witt concert at Dosey Doe, are happening around us in The Woodlands on a weekly basis. Those who caught the show feel blessed to have been there. Don't miss out on making these memories. With summer on the horizon, be sure to make time for special events. You can view the full list of Dosey Doe's upcoming performances here.