/

/

Lone Star GCD Board Votes to Lower 2020 Water Use Fees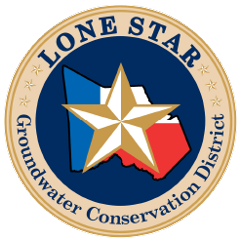 MONTGOMERY COUNTY, TX - On Tuesday, during the August regular meeting, the Lone Star Groundwater Conservation District (the 'District') Board of Directors approved an almost 20% reduction in the 2020 water use fee rate for pumping groundwater in Montgomery County. The Board of Directors approved Resolution No. 19-008, officially adopting water use fees for 2020. The 2020 Operating and Capital Outlay Budget was also approved by the Board of Directors.

District staff worked diligently with Directors Jim Spigener and Larry Rogers to forecast all reasonably anticipated revenues, expenses and activities; and after giving much consideration to these important factors, it was the Directors' recommendation to reduce the regulatory water use fee of $0.105 per 1,000 gallons to $0.085 per 1,000 gallons for all groundwater produced from the Chico, Evangeline and Jasper aquifers.
Groundwater produced from the Catahoula aquifer, designated as an alternative water supply, remains unchanged at $0.06 per 1,000 gallons. Chapter 36 of the Texas Water Code specifically caps the District's water use fees for agricultural use at $1.00 per acre-feet and for other permitted uses at $.17 per thousand gallons.

In addition to lowering the water use fees, the Board also acted to unanimously approve the District's 2020 FY Operating and Capital Outlay Budget and approved the promotion of the Interim General Manager, Samantha Reiter, to General Manager for the District.