/

/

The Woodlands has a new community theatre, Points North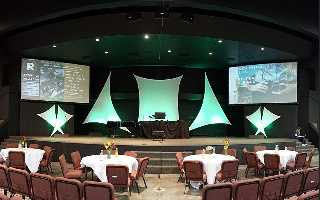 THE WOODLANDS, TX -- The Woodlands area gained a new community theatre recently when it was announced that Points North Theatre Company had moved into the area and taken up residence at the REC – Recreational Enrichment Center at 1540 Sawdust Road.

Since 2000, Points North was known as UpStage Theatre and was based in Houston Heights area. Last year, the board of directors decided to rebrand itself with a new name and move into The Woodlands to bring its decades of community theatre experience to the area.

"From a business, artistic, and community perspective, moving into The Woodlands area was the best choice we could have made," said Sam Sigman, president of the Points North board. "With nearly 20 years' worth of experience and hundreds of productions that entertained thousands of audience members under our belt, we knew we could fill a void that we felt was missing from the local community theatre scene."

Points North's new motto is "Bringing an Exceptional Children's Series, Evening Series, and Theatrical Education Experience to The Woodlands Area Community." Each production is carefully considered for its artistic and cultural accessibility to the public. The inaugural production of the revamped theatre company will be A Fairy Tale Christmas Carol, a fun and unique twist on the classic holiday story.

"We are holding auditions at the REC on Monday, October 7, from 6:00 to 9:00 p.m.," said Sigman. "These auditions are free and open to the public, and we are looking for actors of all ages to fill these fun roles. The production itself will run on Saturdays, twice a day, on December 7, 14, and 21."

For more information on Points North Theatre Company, visit www.PointsNorthTheatre.org, call 832-422-8348, or email admin@PointsNorthTheatre.org. The REC – Recreational Enrichment Center is a multipurpose entertainment and instructional venue located on the grounds of Journey Church at 1540 Sawdust Road in The Woodlands. To learn more, or to book space for your own event, call 281-433-7819, visit www.OurREC.com, or email karri@OurREC.com.