/

/

ARTFEEL To Relaunch at Market Street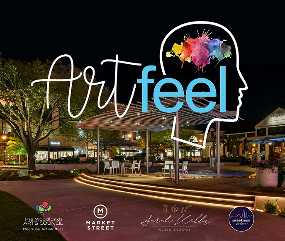 THE WOODLANDS, TX -- Bring chairs and a picnic basket—and head to Market Street to celebrate art in The Woodlands – one artwork at a time!

ARTFEEL, a public art appreciation show produced by The Woodlands Arts Council (TWAC), has found its new home on Market Street's newly remodeled Central Park Stage and will host its first show on Wednesday, October 23rd at 7:00 p.m. Like the public art it celebrates, ARTFEEL is free and open to the public. ARTFEEL is part of TWAC's "Because Art Matters" programming.

What is ARTFEEL?
Every three months, ARTFEEL celebrates a public artwork in The Woodlands and invites area residents to brave the stage and share how the artwork makes them feel – their artfeel. Some people sing, some dance, some play instruments, some story-tell, some show-and-tell their own art or sentimental objects and some say just one word – the emotion the art has evoked in them. The rules are…there are no rules…and that is the fun!

Market Street is kindly donating the venue, lighting and audio for the ARTFEEL show. Market Street tenants, The Sarah Kelly Music School (SKMS) and Sweekman Artists (SA) have officially partnered with ARTFEEL to provide musical talent for this quarterly variety show.

"Market Street is thrilled to support the arts in The Woodlands community while bolstering support for SKMS/SA," says Noemi Gonzales, marketing director at Market Street. "Guests are invited to bring blankets, lawn chairs, a picnic and/or enjoy the myriad dining options available before or after the show."

"We love the imagination ARTFEEL brings to our community using public artworks as creative prompts for expression and this goes hand-in-hand with our singer/songwriter experiences for our students," says Grammy-nominated musical artist Sarah Kelly.

"I'm working on creating a musical theme for ARTFEEL to celebrate its growth and our involvement," explains celebrated Swedish composer Ekman. "My Sweekman Artists are excited to learn which public artwork will be the focus of this month's show and experience the sculpture art medium as inspiration for the musical arts medium."

"We are so grateful to Market Street for the kind invitation to host ARTFEEL and Kelly and Ekman for the artistic partnership," says Nickole Kerner Bobley, the creator of ARTFEEL. "Being at Market Street will provide greater exposure for ARTFEEL and having this kind of top-drawer musical talent will elevate the show experience for our growing audience."


"ARTFEEL is the perfect way to support our mission of providing regional cultural and educational enrichment to our community, "says Jenny Carattini-Wright, CFEE and executive director of TWAC. "We do this by presenting The Woodlands Waterway Arts Festival and by hosting community events and programs that support the performing, visual and literary arts."

Previously housed at The Crush Wine Lounge, which has since closed, Kerner-Bobley is pleased to announce that Crush's owner, Ruth Hallaway, a beloved member of the ARTFEEL family, will still be an integral part of the show in its new home at Market Street.

Origin of ARTFEEL:
Several years ago, Kerner Bobley was diagnosed with Rheumatoid Arthritis and Sjogren's Syndrome. Step-by-step, she used a walking cane to walk The Woodlands Waterway Art Benches as a private "art crawl" for herself—looking to the next bench as next week's goal post as part of her physical therapy program. She also kept a journal about how the different artworks she encountered made her feel. After many weeks, she finally reached the final art bench in the then 14-member collection. At this point she no longer a cane for support while walking. It was an emotional turning point in her auto-immune medical treatment and in the new relationship she had forged with public art. It was here the idea for ARTFEEL was born.

The Woodlands Arts Council, Sarah Kelly School of Music, Sweekman Artists and Market Street hope you can join them as ARTFEEL relaunches on the Central Park Stage later this month!