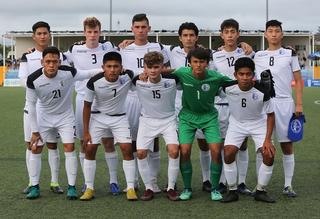 HOUSTON, TX -- Josiah Duenas and Kris Fernandez (Houston Dynamo Kingwood 01 PA) were called up for the U19/U23 Guam Men's National Team over the Summer. They were selected from a pool of players to participate in the U19/U23 Marianas Cup, which took place at the Guam Football Association facility on July 20, 2019.

"It's always an honor to play for Guam and I feel lucky whenever I get the chance to compete with the national team. I'm confident that the training we've been doing with Houston Dynamo Youth will help us perform well in future competitions." - Kris Fernandez.

I'm always thankful for any opportunity to represent my home country and I'm looking forward to doing it again in November's competition in Vietnam. I'm also thankful to Houston Dynamo Youth for their part in helping us stay prepared for all competitions and allowing us to train at a high level on a regular basis." - Josiah Duenas.

"We are extremely proud when players achieve such an accomplishment as playing for their National team. Kris & Josiah are fantastic role models for our younger players and their work rate, attitude and dedication to both training and games is always exemplary. I have a lot of admiration for both of the boys and it has been a pleasure to work with them over the past couple of years. They deserve every success." Jamie Bell, East Director / Head Team Coach.

Kris & Josiah have also been selected to compete with the U19 Guam Men' National Team in the Asian Football Confederation U19 Championship 2020 Qualifiers in Vietnam on November 6-10, 2019. Good luck boys!

Thirty Four (34) players have represented their national teams while playing for the Houston Dynamo | Dash Youth Soccer Club.