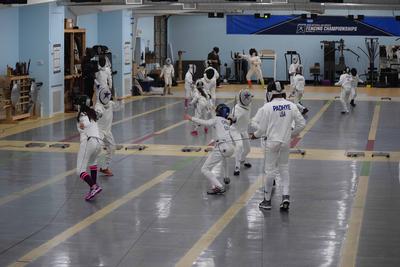 THE WOODLANDS, TX -- Locally owned Alliance Fencing Academy celebrates its 15th anniversary in November. Alliance Fencing Academy's two locations are owned and operated by US Olympic Coach Andrey Geva. Alliance Fencing Academy recently won two national awards: in August the club was awarded the "Club of Excellence Award" for Membership Programming. In July, Alliance was awarded the inaugural "President's Award for International Success." Fifteen years ago, Alliance Fencing Academy had less than 10 members. Now the club has grown to more than 300 members with two locations in Houston and The Woodlands and is now the largest Epee Fencing Club in the United States.
Local business grows from 10 students to largest in US
Alliance Fencing Academy offers classes for children, youth and adults and is open six days a week. Alliance offers Homeschool classes, birthday parties and Off Campus PE Credit for multiple local school districts. Over the winter break, Alliance Fencing Academy offers world-class winter fencing camps at both its Woodlands and Houston locations for fencers of all levels, including beginners.
The Club is home to Olympians and gold medalists at the national, NCAA and World Championship level. Alliance Fencing Academy was founded in 2004 by Head Coach Andrey Geva who is currently the United States' Olympic Coach for the Women's Epee Team. He was the US Women's Epee Team Coach for the 2016 Olympics as well.
Coach Andrey Geva also won the 2006 Developmental Coach of the Year, an award given to one recipient in the USA. The prestigious "Club of Excellence Award" from the United States Fencing Association (USFA) honors four clubs from across the US that "have shown incredible dedication to their members and the sport of fencing." Alliance Fencing Academy received the USFA's Inaugural "President's Award for International Success." The honor recognizes "clubs that have consistently produced top fencers who have made the success of Team USA possible."
Photos available on request.
Website: www.Alliance-Fencing-Academy.com
Phone: 713-410-6655
Email: inform@alliance-fencing-academy.com
Houston Location:
1212 A Cedar Post Lane
Houston, TX 77055
The Woodlands Location:
27326 Robinson Road, Ste 110
Oak Ridge, TX 77385