/

/

Interfaith of The Woodlands Announces New Hand Me Up Shop Location Grand Opening
Interfaith of The Woodlands Announces New Hand Me Up Shop Location Grand Opening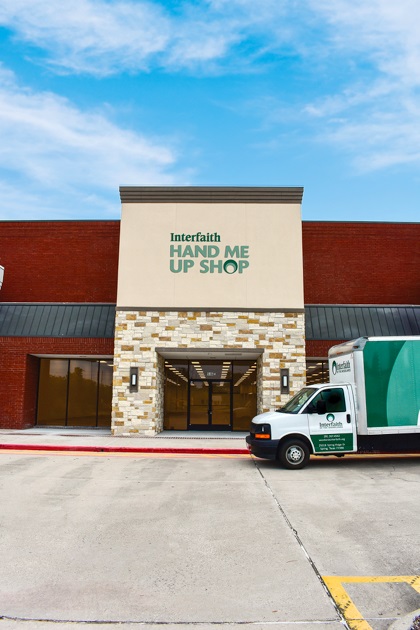 THE WOODLANDS, TX -- Interfaith of The Woodlands' Hand Me Up Shop, a premier thrift store serving South Montgomery County for over 30 years, announced it has expanded its shop and is planning a Grand Opening weekend of its new location with a kick-off of its annual Holiday Extravaganza sale on Thursday in addition to special events Friday and Saturday, November 7th, 8 and 9th. A ribbon cutting will be held at its new 22,000 sq. foot retail store located at 536 Sawdust Road, at 9am on Friday, November 8th. The Hand Me Up Shop resale store currently offers gently worn clothing, jewelry, housewares, books, toys, and home décor at affordable prices as well as accepts vouchers for complementary items for individuals, families and Seniors who are in crisis. These neighbors work through the Family Services department at Interfaith for basic needs assistance.

The larger space, more than four times the size of the current shop, will offer two exciting additions: Furniture sales and a Boutique. Resale and consignment furniture will be offered at exceptional prices and an in-store Boutique will sell gently used high-end designer clothing and accessories.

All proceeds from the Hand Me Up Shop benefit Interfaith of The Woodland's many programs and services assisting those in need in our community including Interfaith Food Pantry, Transitional Shelter program, financial assistance for those in crisis and support for Seniors through activities, grocery delivery, transportation and wellness and care programs for those wishing to age in place.

"The Hand Me Up Shop not only funds our community programs, it most importantly provides vital services and meets basic needs for neighbors in crisis," says Missy Herndon, President and CEO of Interfaith of The Woodlands. "The shop clothes our neighbors in need. Children get first day of school outfits, individuals get professional attire for job interviews and families who lose personal belongings in a fire or disaster are able to replenish their closets, thanks to the generosity of our community donors. Every donated piece of clothing, housewares or furniture item will make an impact on someone in need."

Donations of clothing and housewares for the new location are currently being accepted at the current Hand Me Up Shop, located at 25018 Spring Ridge Dr. and Interfaith of The Woodlands' central office at 4242 Interfaith Way. Furniture donation and consignment pick up can be done by calling 281-367-4942 or emailing hmus@woodlandsinterfaith.org

The original Hand Me Up shop opened its doors in 1989. It has consistently grown each year, becoming one of the leading resale shops in Montgomery County. The location is changing, but The Hand Me Up Shop will always remain your community resale store!

Follow The Hand Me Up Shop Facebook and Instagram pages for updates! For more information, contact hmus@woodlandsinterfaith.org.

Interfaith of The Woodlands is a nonprofit social service agency celebrating its 46th year of providing numerous programs and services to meet the needs of The Woodlands community and surrounding area. For more information on Interfaith's programs and services or to become a volunteer, please visit woodlandsinterfaith.org or call 281-367-1230.