/

/

Houston Astros Caravan makes stop at Texas Children's Hospital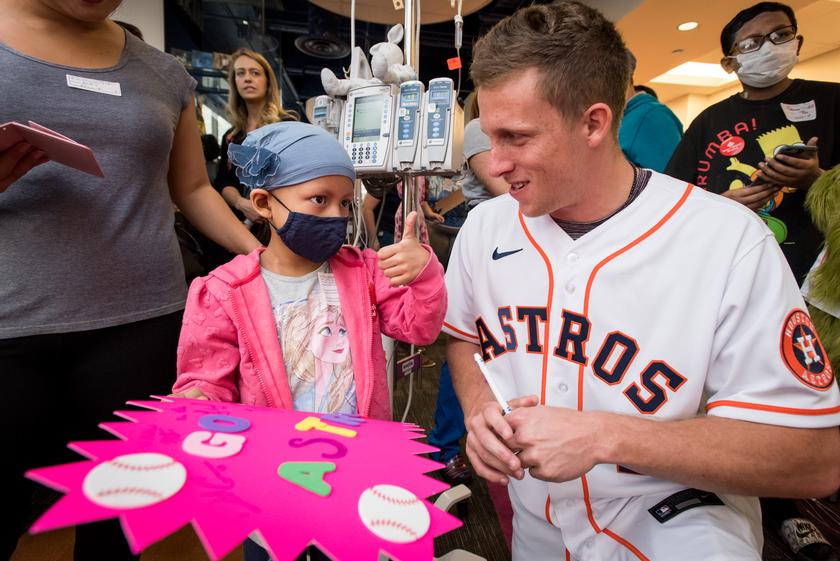 HOUSTON, TX -- Patients with Texas Children's Cancer and Hematology Centers got the surprise of a lifetime last week when Houston Astros players José Altuve, Joe Biagini, Dustin Garneau and Myles Straw, as well as Orbit, the team's mascot, paid them a visit in The Zone and in some of their hospital rooms.

The visit was part of the Houston Astros Caravan, a yearly event that occurs prior to the onset of spring training to pump up fans for the upcoming season. Organized by the Astros Foundation, this year's caravan kicked off January 13 and ended January 16 with stops in cities across Texas.

"We are delighted that Texas Children's is one of our stops," said Twila Carter, executive director of the foundation. "Our largest audience is kids and we are grateful to be able to provide them with an opportunity to have some fun."

For more than an hour Altuve, Biagini, Garneau, Straw and Orbit hugged, high-fived, visited with and took selfies with patients and families awaiting treatment or appointments in the Cancer and Hematology Centers. The players also signed autographs and participated in arts and crafts with the children and families.

"My friend is going to flip out when I tell her I got Altuve's autograph for her," said Jane Lange as she watched the baseball player shoot pool with another patient. "She is going to be so happy!"

Shayne Pederson said the players' visit to his son Brock's hospital room in the Cancer Center was a much-needed distraction from what has been several days of surgeries and doctor's appointments. The players spent about 15 minutes talking with Brock and his family. They also signed autographs and snapped several photos.

"I haven't seen him (Brock) smile like that in a while," said Amye Pederson, Brock's mother. "This has been really awesome."

Dr. Susan Blaney, director of Texas Children's Cancer and Hematology Centers, attended the event and said respites such as these are greatly appreciated.

"Our patients, families and staff work hard each and every day to combat cancer," Blaney said. "Adding some fun to that hard work is always a bonus, and we are thankful that the Astros provided that opportunity."

The Astros will start their new season March 26 at home against the Los Angeles Angels.

Photos credited to Allen S. Kramer/Texas Children's Hospital.