/

/

Montgomery County Food Bank Hosts Virtual Food Drive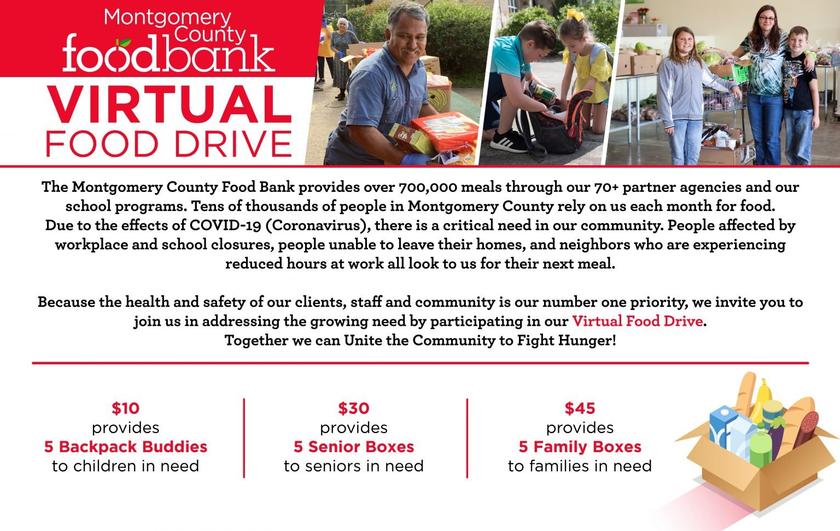 MONTGOMERY COUNTY, TX -- In the uncharted landscape brought by the threat of COVID-19, the Montgomery County Food Bank would like to recognize and commend the steadfast commitment and brave leadership demonstrated by every faction in our community as we seek to serve the tens of thousands of people that rely on us for food.

We have mobilized in partnership with Houston Food Bank and Feeding America, and are in communication with government, school, and healthcare officials to ensure the safest handling of food distributions to our community.

·For our sixty Partners Agencies throughout Montgomery County, we are supporting them with adjusted grocery distribution models, cleaning protocols, and weekly conference calls to help them through unfamiliar territory.

·For our schoolchildren, we are partnering with the Independent School Districts to provide continued Backpack Buddy service giving these children nutrition and stability in their uncertain world.

·For our senior adults, we have drastically adjusted our Senior Box distribution model to promote safety and ease anxiety of this vulnerable population's simple need for their next meal.

We are concerned as we watch the need become more critical each day. People affected by workplace and school closures, people unable to leave their homes, our neighbors experiencing reduced hours at work – now unsure of their next meal.

How can you help?

To ensure the highest food safety standards for our community, we are not encouraging community food drives.

We do invite you to join us in addressing the growing need by participating in our Virtual Food Drive. Your reach helps us tremendously and any amount helps us feed someone in need. $1=5 meals.

https://mcfoodbank.org/virtual-food-drive/


For Volunteer Services, we are enforcing strict guidelines and are limiting our volunteer numbers. If you would like to apply to be a part of those limited shifts, please visit our website.

Our community has a longstanding history of enduring any challenge we face – together. We are confident this will be yet another chapter when our inspiring community responds with the best within us and makes it our finest hour.