/

/

Miles Translate to Money for Houston Food Bank: GlobalSpeak Translations Donates to Food Bank For Every Mile Cycled
Miles Translate to Money for Houston Food Bank: GlobalSpeak Translations Donates to Food Bank For Every Mile Cycled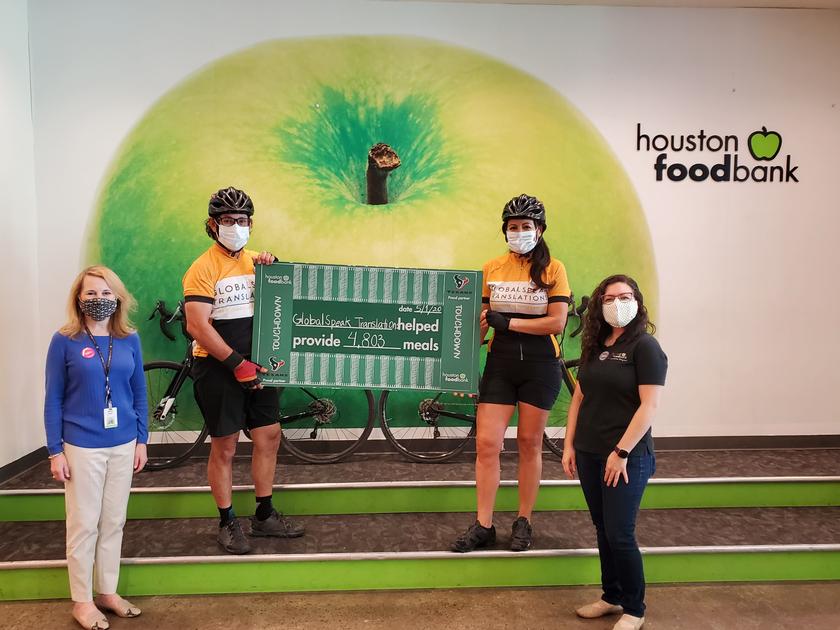 HOUSTON, TX - Houston-based GlobalSpeak Translations is doing more than just translating copy for businesses around the globe, they are translating miles biked into donations for the Houston Food Bank to help Houstonians impacted by COVID-19.
Company also providing translation services to non-profit
GlobalSpeak CEO Flor Dimassi and President Thomas Lacombe saw the steep rise in demand for the food assistance provided by Houston Food Bank and were determined to do their part by donating. Both share a passion for cycling and thought it would be even more impactful if, instead of just writing a check, they could promote a healthy lifestyle combining cycling and philanthropy. Being able to use their passion to dedicate to those in need was meaningful to them.
So, the language services company made their decision: they would get on their bikes and cycle, donating a dollar for every single mile, from March 23 through to the end of April, to the Houston Food Bank. The organization cycled 1,601 miles helping provide 4,803 meals.
"We wanted to earn our donations knowing that our cycling takes effort, pain and heartache," says Dimassi. "Regardless of the outdoor conditions, rain and traffic do not stop us. We want to create awareness that cycling is important to physical health and mental health while encouraging Houstonians to donate cycling mileage to Houston Food Bank. We selected the food bank because they are a pinnacle resource for other non-profits."
Demand for assistance from the food bank has increased exponentially. "We are serving all who need assistance at this time, and that includes clients we served pre-COVID and people who have never sought food assistance before," says Brian Greene, president/CEO of Houston Food Bank. "We are currently distributing one million pounds of food per day and need the support of the community and companies to help make this possible. We thank GlobalSpeak Translations for seeing the need and taking the initiative to help us provide food for better lives during this uncertain time."
In addition to the monetary donation, GlobalSpeak also said yes to a request from the food bank to assist with translation of information and materials to help the public get valuable information.
A leader in their field of technical translations, GlobalSpeak Translations offers a wide range of services, including virtual translation services. They provide translation services in many different languages, including, and not limited to, Spanish, Vietnamese, Mandarin Chinese, Arabic, French, Russian, and many more.
To learn more about their services, please visit the GlobalSpeak website by visiting
www.globalspeaktranslations.com
.
For more information on Houston Food Bank and to learn where to get food assistance and to donate money or time, visit
www.HoustonFoodBank.org
.