/

/

The Woodlands Christian Academy Seniors Create Mosaics and Come Away with Big Lessons
The Woodlands Christian Academy Seniors Create Mosaics and Come Away with Big Lessons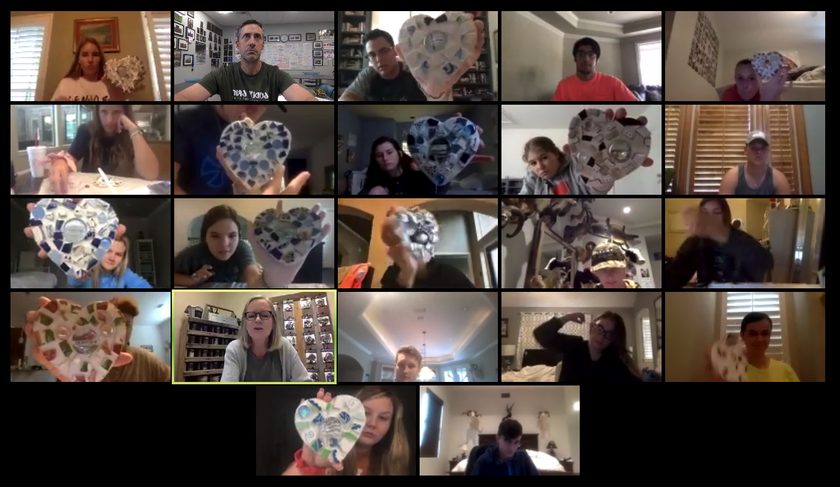 THE WOODLANDS, TX - Seniors at The Woodlands Christian Academy participated in a special project with Mosaics of Mercy, a ministry dedicated to providing hope, healing, and promoting mental well-being, to process the mixed emotions related to the disappointment of missing out on a traditional senior year.

Coach Tom Earle originally planned the project in partnership with Ann Hauser, Director of Artistic Expression at Mosaics of Mercy, back in October 2019, as a way to help students deal with the transition from high school to college. At the time, no one could have predicted the chain of events that would transpire, affecting the end of senior year.

Students met with Hauser virtually during health class. While students pieced together broken tiles into a heart shape, Hauser shared specific, practical, spiritual, and relational ways to address mental well-being. Earle said, "We related the broken pieces to the missed expectations and hurts they are struggling with now. As they set the broken tile pieces onto the heart, seniors recognized and reflected on how God is working everything together for good and will make it beautiful in time."

All students were required to record themselves sharing their reflections with Earle. Everyone had a different takeaway but many expressed how powerful the mosaic process was, and described it as a transformative experience they would remember for years to come.

Woodlands Christian is committed to raising servant leaders who impact their world. The school is continuing to accept applications for the 2020-2021 school year. The Admissions Team is available to answer questions and guide potential families through the enrollment process virtually.