/

/

Cure Your Wine Craving With a Trip to West Sandy Creek Winery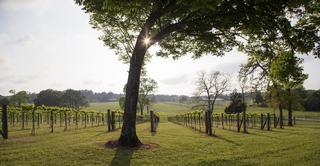 Richards, TX -- West Sandy Creek Winery, located mid-way between Montgomery and Huntsville, has reopened its doors after closing them in accordance with the state-wide stay at home order to prevent the spread of COVID-19.
Walker County Winery Open for Business
While the tasting room is not open, guests can make a reservation to enjoy a bottle of wine outside in one of the winery's gazebos or on the patio as they take in peaceful views of the vineyards and animals – horses, cows, goats, chickens, dogs, zebra, and donkeys– that call the ranch home.
"West Sandy Creek Winery offers the perfect escape during these stressful times," said Sandy McGinley, West Sandy Creek Winery's general manager. "Customers can relax while they are with us, knowing that we've implemented a series of preventive measures to keep them safe."
In addition to being open by reservation only, West Sandy Creek Winery is operating under the following guidelines:
• No more than six guests per party. No exceptions.
• Customers should not re-arrange tables or chairs from their locations.
• Restrooms are open in the tasting room for guests to use one at a time and guests are asked not to linger in the tasting room, which is currently closed.
• Tastings will be served using a single plastic cup. Guests are asked to observe the marked spaces on the patio and line up accordingly to maintain social distancing.
• The winery will not be selling or serving food, but guests are welcome to bring their own to enjoy with their wine.
• All reservations last a maximum of 2.5 hours. If guests plan to be at the winery for a shorter time, please inform the staff, so they can schedule other guests accordingly. These time limits will be enforced to clean and disinfect for the next reservation.
• Wine will be served by the bottle with a wine opener for guests to use. Guests can bring their own wine opener if they prefer.
The winery, one of the largest vineyards in the Texas Gulf Coast Region, is situated on 360 acres at the edge of Sam Houston National Park. West Sandy Creek Winery grows three varieties of grapes and produces three distinctly different wines:
• Four Blanc (sweet, dry, oaked, and dessert)
• Three Lenoir (sweet/blush, dry, and port)
• Two Blends – Bounty Land Crossings (a Tempranillo/Lenoir blend, and a rose', a Blanc du Bois/Lenoir blend)
"Overall, we're following the established guidelines, but the situation is fluid and we will continue to adjust our operations as required," said McGinley. "In the meantime, we invite our loyal customers to return and new guests to experience a taste of what West Sandy Creek Winery has to offer."
To make a reservation, call 936-436-9050. Hours are Thursdays from 1 p.m. to 6 p.m.; Fridays and Saturdays from 1 p.m. to 7 p.m.; and Sundays 1 p.m. to 6 p.m. For more information about West Sandy Creek Winery, visit https://www.wscwinery.com/
# # #
About West Sandy Creek Winery
West Sandy Creek Winery is a 360-acre ranch at the edge of the Sam Houston National Forest near Huntsville, Texas. A family owned and operated business, it was founded on a decades-long love of wine and winemaking. The property features vineyards where the winery grows its own grapes, the winery and tasting room, several log cabins, and plenty of room for animals that call the ranch home – horses, cows, goats, chickens dogs, a zebra, and yes, two zebronkeys – to roam. To learn more, visit www.wscwinery.com.