/

/

Student at The John Cooper School Raises Money for Interfaith of The Woodlands' COVID-19 Crisis Assistance Fund
Student at The John Cooper School Raises Money for Interfaith of The Woodlands' COVID-19 Crisis Assistance Fund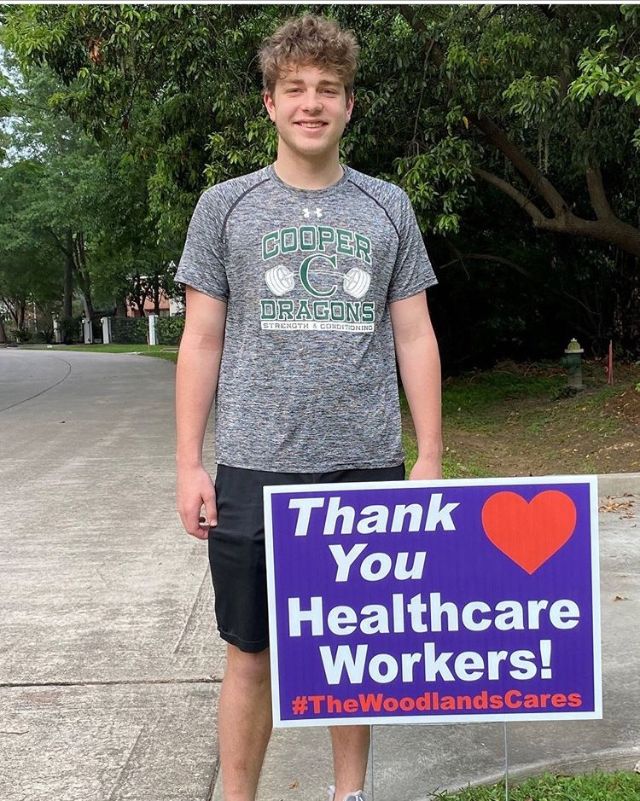 THE WOODLANDS, TX -- "I just hope it supports the people that are in need during this time," Gamble Reed said, in regard to the money he raised for Interfaith of The Woodlands. His fundraising campaign, The Woodlands Cares, allowed community members to support their neighbors and health care workers simultaneously.

Through his campaign, individuals were able to purchase yard signs, adorned with the words, "Thank You Healthcare Workers!" and a heart. The signs cost $20 each for pick-up and $30 for delivery. Reed was able to raise $1,200 in proceeds, which he then matched with his own savings, for a total donation of $2,400.

"What an exceptional young adult to have the forethought, if you will, to create that project," said Missy Herndon, President & CEO of Interfaith. "Not only create it, and collect funding, but to also give his own personal donation, which was just really tremendous of him. We were so very very grateful," she said.

The funds he raised will go directly towards Interfaith's COVID-19 crisis relief efforts. Their focus right now is helping to meet the basic needs of families who have experienced challenges over the last several months due to job loss or illness.

Food security is vital; Interfaith's food pantry allows families to drive through once a week for curbside pick-up. They are able to take home three bags of food that contain enough ingredients to make four or five meals. Toiletries, paper goods and snacks for kids are also provided. There are specialty bags for diabetics, and those with babies are given formula, wipes, and diapers. Additionally, Interfaith assists in paying for rent, utility bills, and mortgage payments. They also provide gas cards and medical supplies such as fever reducers.

"We exist because George Mitchell created our organization a year before he created The Woodlands, as a place that people were able to come and of course get help when needed, but also to serve," Herndon said.

Gamble Reed is a shining example of this vision. When asked why volunteering is important to him, he replied that he's always enjoyed being able to make others smile.

"He's a great kid and we know he's going to do some really special things as he gets older," Herndon said. For that, there is no doubt.


Community members can help locally by dropping off non-perishable items at Interfaith during their business hours. Monetary donations can be made as well, all of which will go towards funding the efforts above.

For further information, visit Interfaith's website.

Watch Missy Herndon's Between the Trees Business Talk with interviewer JJ Hollie, President and CEO of The Woodlands Area Chamber of Commerce, where they discuss what Interfaith does for our community.