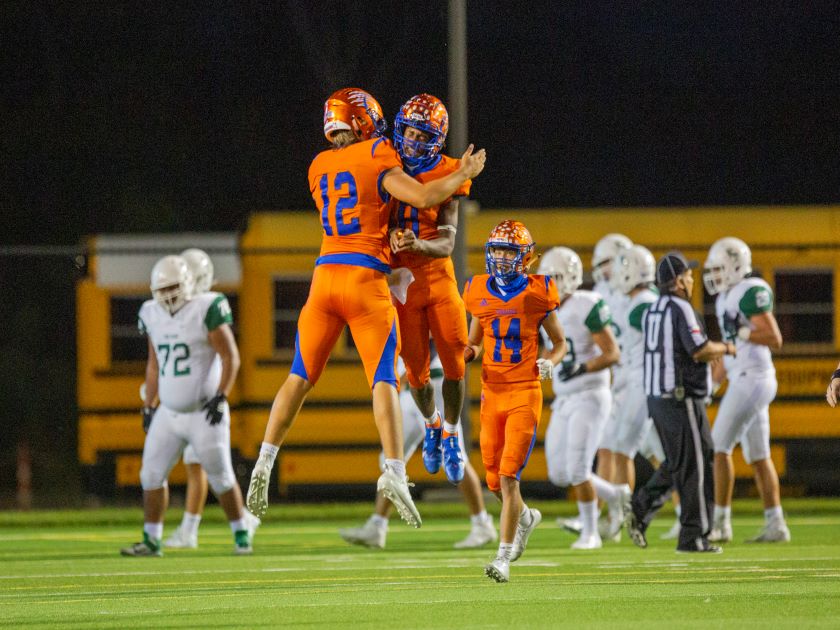 THE WOODLANDS, TX -- The Grand Oaks Grizzlies are becoming synonymous with large margins of victory. For the third straight week, Grand Oaks has scored at least 56 points in their undefeated start to the 2020 season. In Week 3, the Grizzlies defeated Kingwood Park 56-21 to continue their best start in school history.


The Grizzlies continue to blow the doors off teams and do it very quickly. Scores tend to match their uptempo style of play as their opponents often find themselves trailing by multiple scores in the blink of an eye. Friday night was no different as Grand Oaks went up 14-0 on their first two possessions. Two goal-line scores by RB
Noah McClatchey
and QB
James Holmon
put the Grizzlies in control early. On the first play of the second quarter, Micah Cooper won a
footrace to the corner of the end zone
to put Grand Oaks up 21-0.
Kingwood Park was able to end the Grizzlies scoring run with a short QB draw for a touchdown midway through the second quarter. That would be one of the few positives for awhile for the Panthers as the dangerous Grand Oaks running game fully took over.
The Grizzlies have shown that they can count on multiple players to make plays so far this season. That said, running backs Micah Cooper and Brandon High have been a dangerous duo and it was on full display in this game. High punished the Panthers defense with a
physical 21-yard TD run
, then Cooper ran by defenders for a
34-yard score
to quickly regain all the momentum. The Grizzlies defense forced a fumble with less than a minute to go in the half. On the next play, Cooper cruised for 48 yards into the end zone to give Grand Oaks a 42-7 halftime lead.
After a scoreless third quarter, Kingwood Park attempted to make a late comeback in the fourth. QB Hudson Dezell scored his second touchdown of the night, followed by a fumble returned for a touchdown by Wyatt Sheppard. The Panthers scored 14 points before the 10-minute mark of the fourth quarter to make it 42-21, but Grand Oaks would refocus and return back to the damaging running game.
Cooper
and High each added another rushing TD to put the final touches on a 3-0 start to the 2020 season.
Grand Oaks will host Fort Bend Austin next week at Moorhead Stadium. Fort Bend Austin will play a role in providing a glimpse of what the College Park game, Grand Oaks' first district opponent, could look like. The Cavaliers will take on Fort Bend Austin on Saturday.