/

/

22nd Annual Faithstogether Observance Online Nov. 17th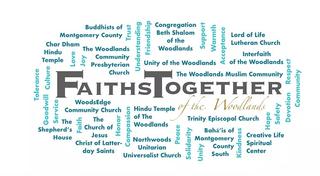 THE WOODLANDS, TX -- Diverse religious faith communities to host 22nd Annual interfaith event in The Woodlands on Tuesday, Nov. 17, 2020, 7:00 to 8:00 p.m. on Zoom this year
Local faith communities come together to give thanks
Many different religious faiths come together each year in the week before Thanksgiving in The Woodlands, Texas, to learn about one another and to give thanks for religious freedom in the United States. This will be the 22nd Annual Giving Thanks Observance planned and presented by FaithsTogether, a local Woodlands organization.
FaithsTogether is a fellowship of religious communities that honors spiritual diversity by building relationships and understanding among people of different faiths. It was formed in 1998 and presented its first interfaith observance in The Woodlands in November of 1999. Volunteers from many faith communities in The Woodlands work together to plan and participate in these annual observances.
Due to the covid-19 pandemic, FaithsTogether is hosting the observance online this year as a Zoom webinar. In the past, the observance rotated locations each year among the faith communities.
"20/20 Vision: Viewing Our Lives Through Gratitude" is the theme for the observance this year.
This will not be your average Zoom meeting! It will have some "live" parts and some recorded parts. There will be faith leaders from different faiths, music, children, and teens presenting parts of this one-hour observance.
Members of FaithsTogether know from their own experiences that as Woodlands citizens learn about the traditions and beliefs of various faiths, opportunities naturally arise to build friendships that strengthen our community. The goal of the observance is to foster respect and understanding among our neighbors.
Everyone is welcome! Go to
faithstogetherthewoodlands.com
and click on "Find out more" in the popup and then follow the link to the RSVP registration. You will receive an email with a link to join the Zoom webinar Nov. 17th.
FaithsTogether usually collects food and/or donations for the Interfaith Food Pantry and the Montgomery County Food Bank at the observance each year. In the spirit of Thanksgiving, FaithsTogether urges everyone to support these local food banks.
If you have questions, please email: faithstogetherthewoodlands@gmail.com