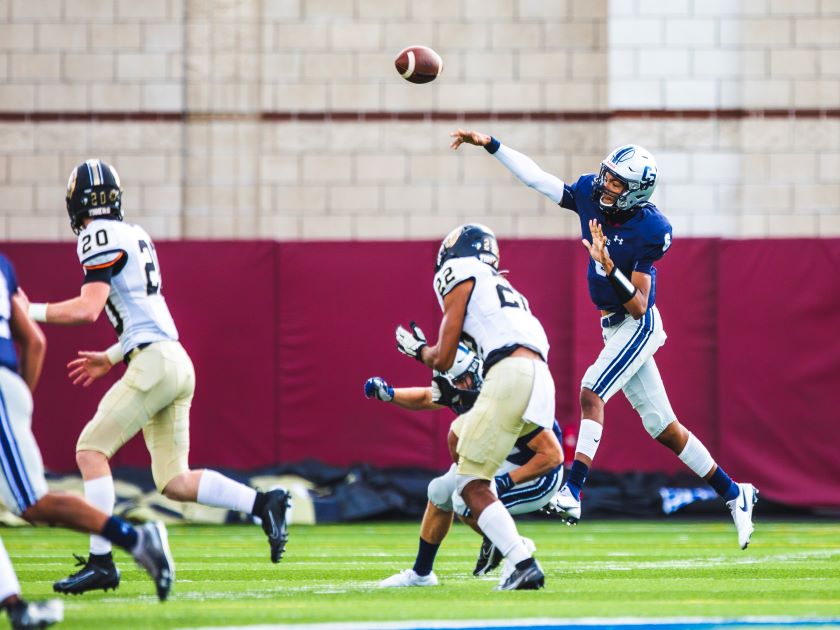 THE WOODLANDS, TX -- Heading into the final two weeks of the regular season, both the district title and the final playoff spot are still up for grabs. Here are where things stand at the start of Week Four in District 13-6A:

In the Playoffs:

The Woodlands (3-0)
College Park (3-0)
Oak Ridge (2-1)

On The Bubble:

Grand Oaks (1-2)
Conroe (0-3)
Willis (0-3)

This Week's Matchups:

Grand Oaks vs Willis - 11/20 @ 7 PM

The Grizzlies are in the driver's seat in the race for the last playoff spot. A 19-18 win over Conroe earlier this month gives Grand Oaks the tiebreaker over the Tigers. So, if Grand Oaks comes away with a road win over the Wildkats, win number two will lock the Grizzlies into a playoff spot in their first season at the 6A level.

If Willis is victorious, the Wildkats will have a chance to clinch a playoff spot next week against Conroe.

College Park vs Oak Ridge - 11/20 @ 7 PM

The matchup between the Cavaliers and War Eagles will take place at Woodforest Stadium and will be a Woodlands Online Livestream.

Both CP and The Ridge ended playoff droughts with wins over Conroe and Willis respectively. The Cavaliers will attempt to beat the War Eagles for the third straight year to stay undefeated in district play and potentially set up an undefeated district finale against their rival, The Woodlands, for the title.

An Oak Ridge win will put them in a position to potentially claim a share of the district title if The Woodlands loses one of their next two and the War Eagles defeat Grand Oaks the following week.

Conroe vs The Woodlands - 11/21 @ 2 PM

The Tigers vs Highlanders will be a Woodlands Online Livestream from Woodforest Bank Stadium.

Classic rivals meet again with a lot to play for on both sides. The Woodlands will attempt to beat Conroe for the 13th year in a row and keep pace with College Park at the top of the table. The Tigers will be looking for their first win over the Highlanders since 2007, but more importantly, their first district win of the year. If Grand Oaks loses both of their next two games, Conroe can clinch a playoff spot by winning out. However, if the Tigers lose Saturday, as long as Grand Oaks loses out, a Conroe win over Willis will force a three-way tie at 1-4 between Conroe, Grand Oaks, and Willis.