/

/

Memorial Hermann Hospital Coronavirus (COVID-19) Announcement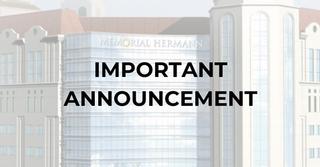 THE WOODLANDS, TX -- Memorial Hermann facilities are no longer permitting in-person visitors. Recognizing the important role loved ones play in the healing process, Memorial Hermann encourages the use of mobile and personal devices for virtual visits with patients. iPads are provided to patients without a mobile or personal device. Exceptions for one in-person visitor (not a rotation of visitors), include:


• One adult (18 and over) visitor for laboring women.

• One adult visitor (parent or guardian) for pediatric inpatients.

• Two adult visitors for pediatric Emergency Center patients and pediatric patients undergoing surgery in the operating room. Once the patient is admitted to inpatient status, only one adult visitor is permitted.

• Family members for patients in hospice or supportive medicine.

• One visitor for patients receiving emergent care. (Age restrictions do not apply to visitors under 18 who present in the Emergency Center with a patient. Minors who accompany Emergency Center patients may remain with the patient.)

• One adult visitor for patients at the time of discharge following a surgery or procedure.
Patients with a disability or other medical condition who need assistance communicating with staff will be evaluated for potential visitor exceptions on a case-by-case basis.

Screening Process
Approved visitors will be required to clear a health screening before entering the facility, as well as wear a Memorial Hermann-provided mask at all times. Please visit memorialhermann.org/screening to complete online screening prior to arrival.