/

/

Cooper Bands, Wind Ensemble Perform First Concerts of the Year with New Precautionary Twists
Cooper Bands, Wind Ensemble Perform First Concerts of the Year with New Precautionary Twists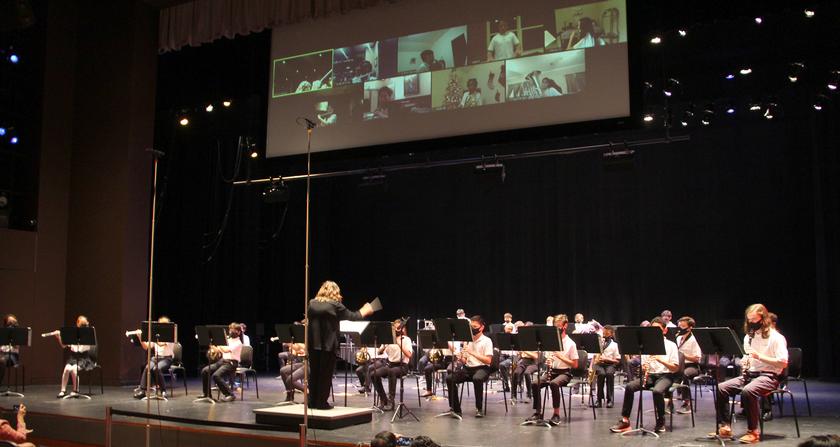 THE WOODLANDS, TX – Middle and Upper School instrumental music students from The John Cooper School incorporated technology, specialized equipment and much enthusiasm to perform their first concerts of 2020 on December 2 and 3 under the direction of Tony Yarbrough, Sharon Kalisek and Joe Beam.

'Our last concert was one year ago, and we are so excited to perform for you tonight,' said Director of Instrumental Music Tony Yarbrough. The Sixth Grade Band and Middle School Band gave two separate performances the first night; the Fifth Grade Band and Wind Ensemble gave two separate performances the second night.

Although very excited to be performing, several new precautions were implemented in order to perform live.

Students who performed on the main stage of the Glenn Performing Arts Center used specially designed bell covers on their instruments and played wearing music masks. Online students also played from home via Zoom and were shown on the large screen in the theater.

Jon Schroeder, Director of Performing Arts, said additional precautionary measures included limiting attendance to the families of performers and following the re-opening guidelines for the state of Texas to determine seating and number of audience members.

"We made a QR Code available in the lobby to access the program so we didn't have to distribute print programs, and each concert was shortened to 35 minutes," he said. The theater and restrooms were also sanitized again following each performance.

"We were very pleased to make it possible for our students to perform while implementing strict precautionary measure," Schroeder added. "The students were very excited to be able to play live." A strings concert was also performed on December 8.

Each of the three Division Heads of The John Cooper School, a pre-k through grade 12 independent school, will give informative evening presentations online on January 19, 20 and 21. for families who are interested in learning more about applying to the school. The administrators will discuss the curriculum and programs that lead Cooper students on the path "from curiosity to wisdom." All information sessions will begin at 6 p.m. and pre-registration is required by going online at www.johncooper.org/admission or by emailing admission@johncooper.org.