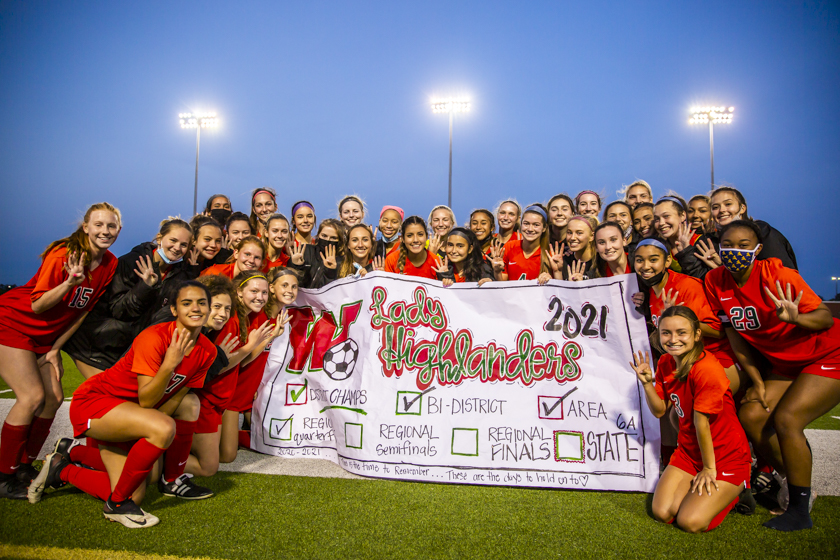 THE WOODLANDS, TX -- The Woodlands did what they do best in Friday night's win over Tomball. The Highlanders controlled the game and scored goals in bunches on their way to a 5-0 victory over the Cougars in the 6A Region 2 Quarterfinals.

The win streak moves to 16 games. It's the 14th-straight game in which the Highlanders have scored at least three goals, and it's the sixth clean sheet in a row.

As they often do, The Woodlands opened the scoring in the early moments of the match. Marley Krach slipped the ball past the keeper to give the Highlanders a 1-0 lead in the third minute. Credit to Tomball for keeping their composure and holding the Highlanders to that lone goal in the first half because this game could've easily been at least 3-0 at halftime.

Midway through the first half, Ellen Persson nearly produced some free-kick magic. Her shot from the right side of the box, about 17 yards out, was just tipped away by the Tomball keeper. Right before halftime, Janey Kauppinen's corner kick beat the keeper but was cleared off the line by a defender, once again denying The Woodlands of a great goal.

The dangerous set-pieces in the first half foreshadowed what was to come in the second half, as two of the four Highlanders' goals came off of corners. In the 57th minute, The Woodlands finally cashed in on a set-piece, thanks to a powerful header by Courtney Koehler.

Koehler's goal reignited the team's fire and the punches in bunches attack of the Highlanders returned. Just a few minutes later, Koehler blasted a low shot from the edge of the box into the left corner to make it 3-0 Highlanders.

After being robbed of a goal in the first half, both Persson and Kauppinen got the goals they deserved. Persson got on the end of a corner kick to head the ball home in the 64th minute. Then, in the final 10 minutes, Kauppinen froze the keeper with a shot from outside the box to complete another dominant performance by The Woodlands.

Up next for The Woodlands (20-1) is the Mansfield Tigers (19-5-1) in the Regional Semifinals.