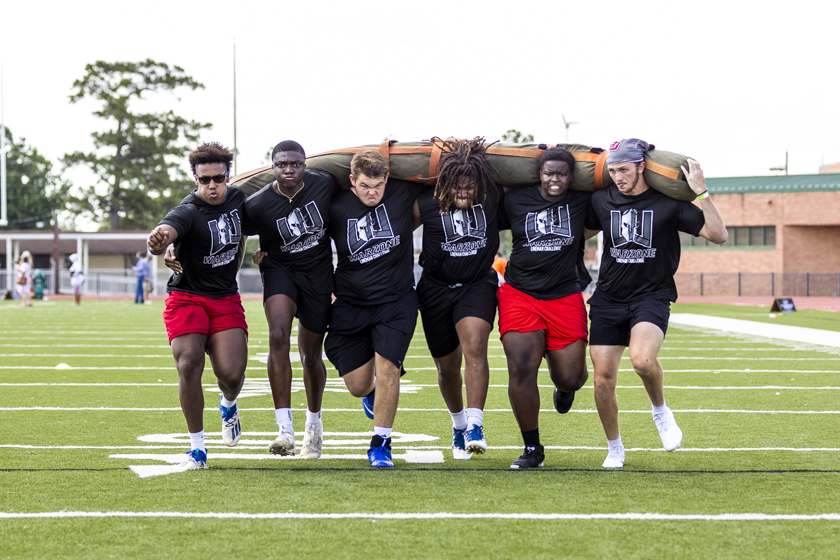 SPRING, TX -- College Park, Conroe, Grand Oaks, and Oak Ridge were among the 27 teams competing in the War Zone Lineman Challenge at Spring HS on Saturday morning. Oak Ridge finished the highest out of the 13-6A teams, taking 3rd place in the event.

Here are some of the highlights from Saturday's event:

College Park

The Cavaliers got to work early in the competition with the Powerdrive. Later, CP hit the Obstacle Course, before heading into the weight room where Andrew Edmonson put 20 reps in the 205 lb Bench Press, the highest reps in the division. The Cavs finished the day with an opening-round win in the Tug O' War tournament.

Conroe

The Big Skill guys got to show off their athleticism in the Obstacle Course. The Tigers also showed off their strength in the Farmer's Carry and the Tug O' War to end the day.

Grand Oaks

The Grizzlies hit the track with a med ball in the Big Man Relay, then threw it around in the Med Ball Toss, but it was the Bench Press and the Tug O' War where the Grizzlies made a name for themselves. Payton Korolyk repped 225 lbs 27 times to take the top spot in the division and help the Grizzlies win the Overall Bench Press Competition.

Grand Oaks outworked everyone in the Tug O' War tournament, including rival Oak Ridge, to be the last team standing in the tourney.

Oak Ridge

The War Eagles put together a top-three performance to be Conroe ISD's highest finisher in the event. Along with a first-place finish in the Obstacle Course, the War Eagles put together multiple top-10 finishes including in the Bench Press. A first-round bye and a second-round win in the Tug O' War was enough to secure third overall.