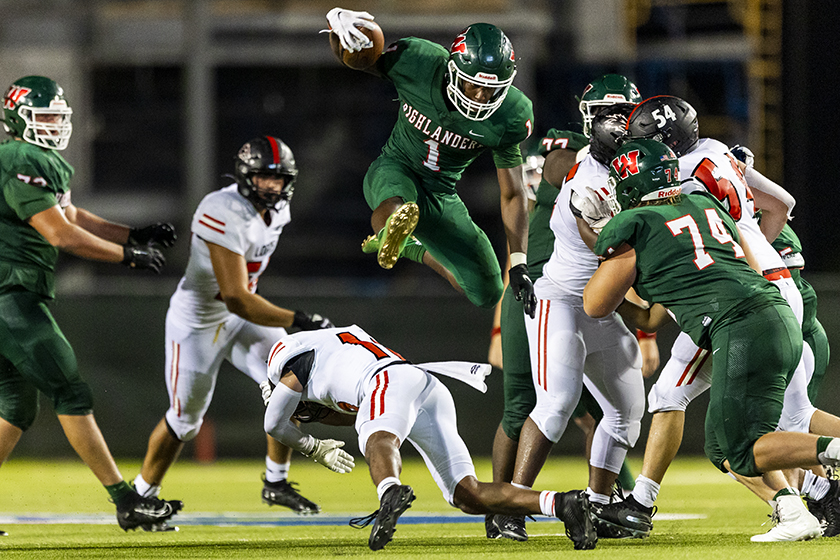 The Woodlands, TX -- After what seemed like the longest post season, football is finally back. The season opened up with a bit of a lightning delay which pushed the game back only creating more tension in the stadium. Each team was ready to enter the field, pacing in front of the locker rooms. And the lines, full of eager parents and students, were just growing longer and longer as kick-off came closer.

As the lighting delay finished each team entered the field and ran through their practice drills cutting them short so they can start the game. The Woodlands High School won the toss and decided to receive. They quickly showed their dominance with an opening drive to the end-zone making it 7-0.

As the game progressed Langham Creek also showed that they were ready to play by answering the Woodlands and going score for score.

"It wasn't clean. As a whole we didn't play great. A lot of things to clean up but it was our first game and we can build off that." said Evan Dubin when asked about the game.

The Woodlands had their weaknesses but also showed that they are a dominate force, creating many huge plays and moving the ball up and down the field.


"At the end we really came together as brothers even when it wasn't clicking on the field," said Evan about his teammates and continued, "We really just picked each other up and if we continue to do that we will be in good shape."
The Woodlands Highlanders are set to play Lamar in their next preseason match. They will face Willis in the district opener on October 7th.
Evan was asked who they are most looking forward to and with a big smile on his face said, "We want the big games like Bridgeland and Katy and College Park."
Evan Dubin with the interception to end the game!
FINAL: 48-42 TWHS pic.twitter.com/rtEQgejvNp

— Woodlands Online Sports (@WOLsports) August 27, 2021
The Woodlands closes out Langham Creek 48-42 in their non-district opener.