HS Football: College Park Shuts Down Undefeated Grand Oaks in District Opener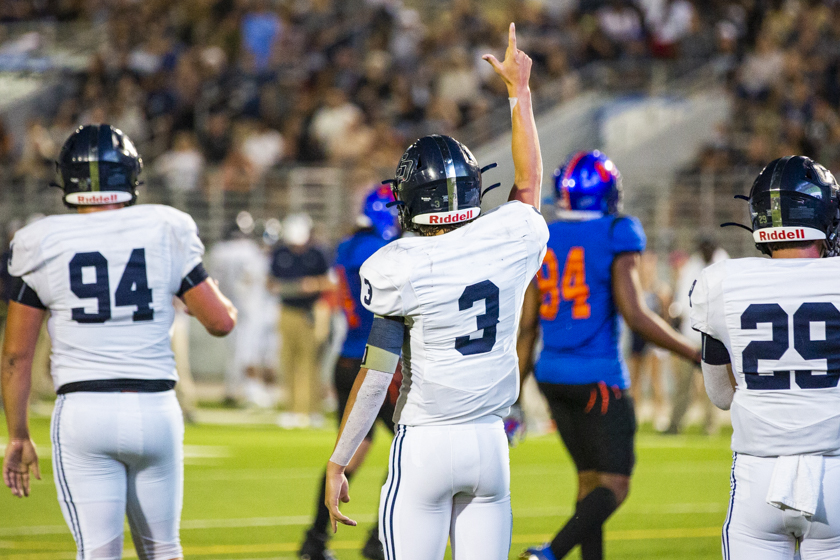 THE WOODLANDS –- Woodforest Stadium was packed for the Grand Oaks and College Park district opener on Friday night. The anticipation was high for Grand Oaks since they have yet to face a worthy opponent and have also yet to lose a game this season. College Park comes into the game with a four win and one loss record and is hungry to be at the top of the district for a second season in a row.

The teams were extremely even in the beginning but College Park turned the momentum up and struck first with an 87-yard touchdown. Grand Oaks quickly answered back and also out points on the board. For the rest of the half, it was a back and forward match, with both teams making huge plays down the field.

The Grand Oaks offense was shut down by the College Park defense and vice versa. Brandon High of Grand Oaks made some long running drives and College Park answered back but both teams couldn't find the endzone. By halftime the score was tied at 7 and the supporting crowds were just as excited for the second half.


With 6 minutes left in the half College Park and Grand Oaks are tied up!

Grand Oaks - 7
College Park - 7 pic.twitter.com/pSVCbiwYog

— Woodlands Online Sports (@WOLsports) October 9, 2021
It was unknown what the Grizzlies were going to do or how they were going to play but they seemed to have kept up with the always dominate Cavaliers in the first half. As they hit the field the stadium erupted creating much needed momentum for both teams. Each defense made some spectacular stops but the second half was all the Cavaliers.
After the game College Park Head Coach Lonnie Madison reflected on the game. "They [College Park offence] did a great job and scored 28 points in the second half,"
College Park turned up in the second half and took the win against Grand Oaks

Final
College Park - 35
Grand Oaks - 21 pic.twitter.com/vhfnBD0U4r

— Woodlands Online Sports (@WOLsports) October 9, 2021
Grand Oaks tried to answer back but the momentum was not on their side. Coach Jackson of the Grand Oaks Grizzlies also added, "They made more plays than us."
College Park runs away with the victory 35-21. They are set to face Willis next Friday at Woodforest Stadium.
College Park vs Willis
when: 10/15 at 7 PM
where: Woodforest Stadium
Grand Oaks vs Conroe
when: 10/14 at 7 PM
where: Woodforest Stadium