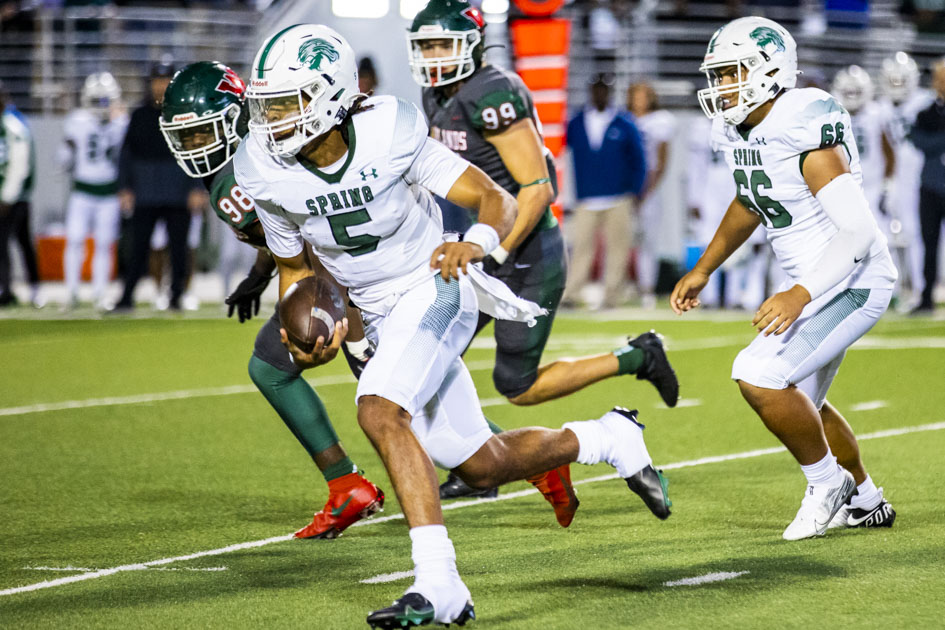 THE WOODLANDS, TX -- The (9-1) Spring Tigers traveled to Woodforest Stadium for the Bi-District round against The (8-2) Woodlands Highlanders. Both teams faced some tough competition in the regular season making this a very anticipated game. If The Woodlands were to win, they would have a long run in the playoffs and the same is true for Spring.

In the first half Spring seemed to start off slow, although having an accurate quarterback, Bishop Davenport. He seemed reserved and needed a couple of minutes to warm up to The Woodland defense. The Highlanders showed no mercy as they forced their way into the endzone and forcing turnovers on downs against the Tiger's offense. With the many weapons, The Woodlands flexed their skills and dominated the first half of the game, running, scoring and stopping the Spring advances.

As the game progressed, Spring warmed up and started making some huge plays that The Woodlands could not defend. Although The Woodlands was running the field, Spring was able to sneak out a couple of touchdowns and a field goal by the end of the first half. The highlanders lead at halftime 21-17, scoring in the last seconds.


WHAT. A. GAME! Spring and The Woodlands battled it out the first half!

Halftime
The Woodlands - 21
Spring - 17 pic.twitter.com/VmZ7JhlHFa

— Woodlands Online Sports (@WOLsports) November 13, 2021
The Highlanders are a second half team, and as they came out of the locker room they seemed like a different team, as they do in every other game. They came out strong but Spring came to play and dominated the entire 3rd quarter, putting up multiple huge plays and scoring a hand full of touchdowns. Unfortunately, The Woodlands had no answer to the accuracy of Spring's quarterback Bishop Davenport as he threw multiple bombs down field.
Going into the final quarter the experience showed in The Woodlands young quarterback as he scrambled from the pressure put on by the Spring defensive line. With a couple of fumbles and sacks, The Woodlands was unable to make the connections they needed to turn the game around. Spring was a different animal for this game and will be a tough contender in the next rounds of the playoffs. The Woodlands will see their seniors move on and replace them with exceptional talent as they do every year. The Highlanders have been a power house in the 13-6A district for many years and will continue to be a threat. Spring takes he Bi-District round 52-35. They are set to play Klein Cain in the Area round of the playoffs.
The Woodlands falls to Spring in Bi-District round.

Final
The Woodlands - 35
Spring - 52 pic.twitter.com/pPxWnpomje

— Woodlands Online Sports (@WOLsports) November 13, 2021