Siemens and Globant Partnership Hosts Successful Lunch Forum in The Woodlands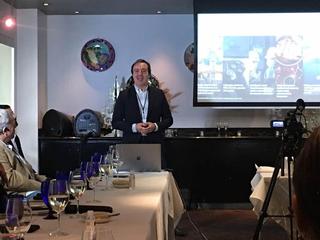 THE WOODLANDS, TX -- The Siemens and Globant partnership accelerates digital transformation. Their invite-only lunch forum, hosted at Amerigo's Dec. 2, allotted guests the opportunity to network and learn about the latest digital transformation trends within the Oil&Gas, Energy, and Mining industries.

Siemens Digital Industries offers cutting edge software solutions for process industries, while Globant moves business forward by bringing strategy, digital trends, AI, and culture together. This combination of company expertise unleashes a business' potential through frictionless and agile digital transformation implementation.

"The announcement of the Siemens Globant partnership sets the basis to better serve clients," said Larry Deckerhoff, Global Executive and trusted adviser to companies and entrepreneurs in The Woodlands, with 20 years of leadership experience.

The lunch event was hosted by Jose Manzano, North America Country Manager for COMOS Industry Solutions at Siemens, Guillermo Bodnar, CSO at Globant, and Jim Wicklund, Managing Director at Stephens Inc.

Topics discussed included:
+ Siemens footprint in process automation, and how new technologies are taking operational efficiency to a whole new level.
+ Digital transformation in oil & gas, presented by Globant: Data with purpose and the importance of understanding the real meaning of data. How the human factor and culture are key in this process.
+ A glance at the energy industry today. What to expect in the next few years, by Jim Wicklund.

An Interview with Jim Wicklund, Managing Director at Stephens Inc.:

What are your thoughts on:
· The Siemens Globant partnership?
'The cross-pollination of different skills in the digital world will accelerate the adoption and optimize the use of technologies, all of which benefits the industry. Getting to where we need to be, digital and efficient, will be a group effort.'
· How the partnership is enabling accelerated digital transformation to improve ROI, Ebitda. etc?
'As an industry, we have focused on the technology of drilling and completing wells, not optimizing how we run the enterprise as a whole. The technological improvements of how we run our businesses can be as impactful as the ones that drive operations. All that contributes the industry's renewed focus on ROI rather than just production or cash flow growth.'

What are your views on the industry as a whole?
'Any observations or predictions? Oil prices will stay relatively high as the E&P industry remains focused on generating returns of and on capital. We can lose money by spending 120% of cash flow or make money by spending 70%. But production and production growth will be less, raising prices especially in the near- and mid-term. The industry will continue to focus on "efficiencies" of every kind and at some point, accelerating improvements over time. The discipline of the E&P industry will stick, because there are just too many forces at work now to financially incentive higher-return behavior. 2022 will be a better year but we are likely to see smaller and smaller swings in the volatility of activity if not commodity prices.'

• Learn more about Siemens Industry Software Inc.
• Learn more about Globant.