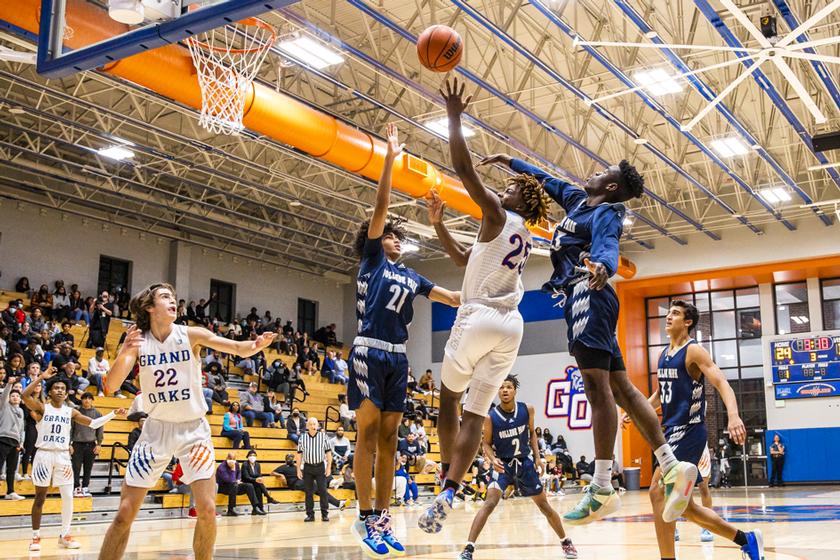 The Woodlands -- After the Junior Varsity game against Grand Oaks and College Park went into double overtime the momentum and intensity was off the charts for the upcoming varsity game. Both teams are undefeated and this was the first time they would face each other in district. College Park with their fast pace high momentum play against the Grizzlies overwhelming ability to drain 3s from downtown. This game was set to be a fast pace high scoring game between the two teams.


After a wild double overtime JV game. Grand Oaks and College Park varsity look to keep the momentum!@GOHS_BOYSBBALL @cp_hoops pic.twitter.com/WUl2LVGehA

— Woodlands Online Sports (@WOLsports) January 12, 2022
In the first quarter Grand Oaks came out swinging draining a couple of 3s and giving them a quick 6-0 lead minutes into the game. College Park answered matching their pace and eventually taking the lead. Ty Buckman with 4 minutes left in the first popped off a 3 pointer and was fouled in the process which started the College Park run.
The first quarter came and went but each team was too hyped up to make accurate shots which made the game chaotic in some minutes. They would go steel the ball and turn it back over multiple times as well as block shots at each end of the court. At this time College Park turned up the pressure and forced many turnovers resulting in points on the board. Unfortunately for Grand Oaks, the basket seemed to have a lid on top which prevented them from making many shots. After a crucial time out, College Park started to play slower and more accurate while Grand Oaks pushed the momentum and pace. Each team had an answer for anything that was thrown at them and by small mistakes, points were eventually made. By halftime, this supposed high scoring game was only at 20-29 with College Park in the lead.
Halftime couldn't end quick enough as the crowd of student was growing impatient and ready for the final half to begin. College Park slowed their game but still kept a high momentum by shutting down the passing lanes and putting pressure on the ball handler. Grand Oaks was growing increasingly frustrated with the open 3s being missed. Unfortunately, without their head coach, Grand Oaks was playing a critical game without their leader to help them along the way. This could have contributed to the loss but in the end, they were being outscored by College Park, but not by much. The teams were extremely even and it was evident they watched tape on each other because they knew plays and who to cover and when to cover them. The final buzzer went for the second half and the score board read, Grand Oaks 45, College Park 56. Ty Buckman was the lead scorer with 20 pts.
College Park stays undefeated as they battle a tough Grand Oaks at home.@cp_hoops @GOHS_BOYSBBALL pic.twitter.com/9gXXbLYmjS

— Woodlands Online Sports (@WOLsports) January 12, 2022
Boys BasketBall
The Woodlands def Willis, 62 – 28
- Shey Eberwein (#2) with 23 pts. Followed by Justin Sheldon (#5) with 12 pts. For The Woodlands
Oak Ridge def. Conroe, 69 - 66
Girls Basketball
Willis def The Woodlands, 49 - 46
Grand Oaks def College Park, 43 - 41
Conroe def. Oak Ridge, 58 - 36