/

/

This March, tantalize your taste buds with a Tequila Tasting in The Woodlands
This March, tantalize your taste buds with a Tequila Tasting in The Woodlands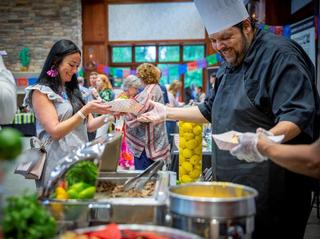 THE WOODLANDS, TX – If shots at college bashes and weddings or house margaritas at your favorite Mexican restaurant are the extent of your experience with tequila, it's time you get educated. Trust the experts, this kind of learning is fun!
Food & Vine Time Productions presents the Nach-Yo Ordinary Tequila Tasting on March 24
Food & Vine Time Productions
is presenting a unique way to socialize your life and vitalize your palate: the
Nach-Yo Ordinary Tequila Tasting – The Woodlands
, taking place on
March 24 at The Woodlands Country Club – Palmer Course
, starting at 5:30 p.m.
Tequila is the most well-known and recognized spirit produced in Mexico. While stories of its origin vary, many believe the spirit has been produced for thousands of years. And Food & Vine Time thinks we're the better for it.
At the Nach-Yo Ordinary Tequila Tasting, industry experts will be on hand to guide, educate and share their passion with attendees about all things tequila. Take a chance at the Party Wagon raffle benefiting
The Woodlands Arts Council
. You could go home with a prize packet worth more than $1,000 in beverages and branded swag.
Pre-purchased tickets cost only $45 per person – $50 at the door – and include great eats with local restaurants serving tequila-paired food selections, music, a Tequila Forum Seminar, and tequila/mezcal tastings served both neat and batched.
Participating tequila brands include:
• Corralejo Tequila
• El Bandido Yankee Tequila
• G4 Tequila
• Ghost Tequila
• Hacienda de Chihuahua Sotol
• Lalo
• Los Arango
• Maestro Dobel
• Mezcal Vago
• Milagro Tequila
• Mijenta
• Ranch Rider Spirits Co.
• Republic Tequila
• Tres Agaves
• Tequila Ocho
• Xicaru
Gourmet nacho bar provided by H-E-B. Sangria station provided by Beso del Sol Sangria
Check out our Event Link to this sure-to-be-fun event here!