/

/

Memorial Hermann The Woodlands Medical Center introduces their new South Tower building with ribbon cutting and tour
Memorial Hermann The Woodlands Medical Center introduces their new South Tower building with ribbon cutting and tour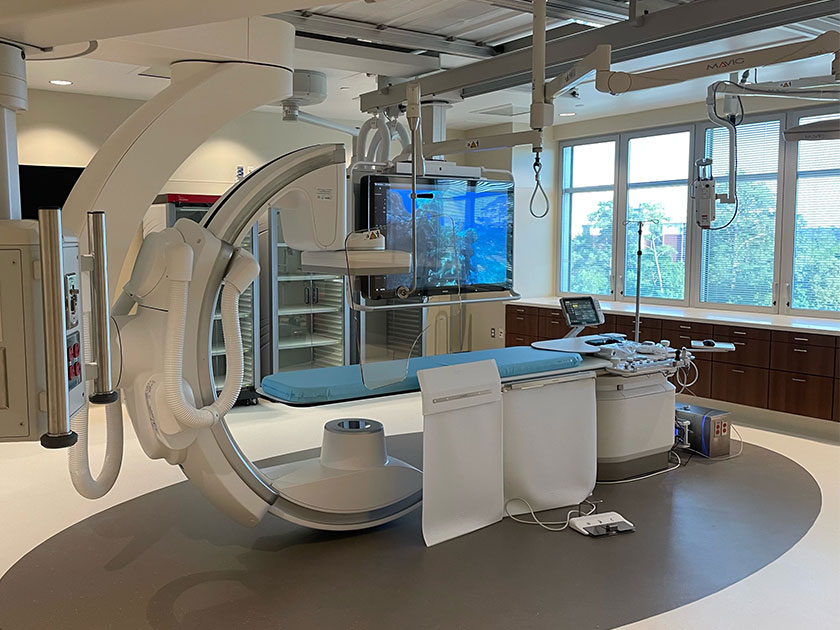 THE WOODLANDS, TX – On Wednesday, May 11, Memorial Hermann The Woodlands Medical Center gave attendees a glimpse of the brand new $250 million south tower expansion project that will open to the public on May 31. For Memorial Hermann, this new tower is an ambitious undertaking that represents one of their largest projects outside of the Texas Medical Center. The new tower brings Memorial Hermann The Woodlands Medical Center's bed count to over 500 and the total campus employee count to 3,150.
"We are growing for you"
In addition to the ribbon cutting ceremony that was done through
The Woodlands Area Chamber of Commerce
, guests were also treated to a personal tour of several of the tower floors.
Click here to view our photo gallery of the ribbon cutting and south tower tour
View Memorial Hermann The Woodlands Medical Center South Tower by the numbers
The tour included viewing a state of the art catheterization lab that boasts some of the most advanced catheterization equipment in the area. Guests were also shown new patient rooms, expanded work and testing areas in addition to the most modern medical equipment available for patients. The third floor of the tower called the
Howard Hughes Community Conference Center
consists of beautiful conference rooms that are available for internal training as well as booking space for the community. Each conference room is named after a different community the Memorial Hermann The Woodlands Medical Center services. Rooms with names such as The Magnolia Room, The Montgomery Room and The Woodlands Room were equipped with the latest media decor and equipment.
In addition to the expanded capacity and advanced equipment that the new south tower offers, Memorial Hermann The Woodlands Medical Center also wanted to make the expansion aesthetically inviting to patients and their families. To accomplish this, they designed the facility to showcase the art and beauty of The Woodlands with large glassed walls for the waiting rooms that offered guests panoramic views of the The Woodlands as well as beautiful artwork and photography provided by local artists. There is also a new
Woodforest National Bank Terrace
that will provide comfort and beauty to the new tower.
We asked
Justin Kendrick, CEO of Memorial Hermann The Woodlands Medical Center
about the significance of the new south tower. He said:
"I think the first thing that comes to mind is, this tower really gives us the opportunity to continue to care for this region in a way in which we've been unable to. This facility has continued to grow over the past several decades, but has really reached that plateau in fact, that we have been unable to take care of so many people that have desired or requested to come to us. So again, this building gives us that capacity moving forward and allows us to actually go back and renovate and expand other areas of the hospital as well. The project actually consists of two thirds of the square feet that is in this new tower and one thirds of the project is renovation and expansion of our current hospital. So what we say every single day, and that we live out loud is really our honor and privilege to be able to care for this community. We try to earn their trust each and every single day. This capacity, this new south tower allows us to continue to work towards that mission, building healthier communities now and for generations to come in a way in which we've been unable to do in the past. We are incredibly grateful for not only the trust the community has put into us, but the incredible trust that our system leadership and board of directors has put in us to fund this $250 million dollar investment, one of the largest investments outside of our medical center. It's an incredibly exciting time. We're just thrilled that what started less than 1,000 days ago has now come to fruition. We are so incredibly grateful with all of the building team, the contractors, the architects, and our team that have worked through a pandemic, with a project contract on time, and on budget, so that we can say yes to all of those individuals and patients that need care."
Click here to learn more about Memorial Hermann The Woodlands Medical Center