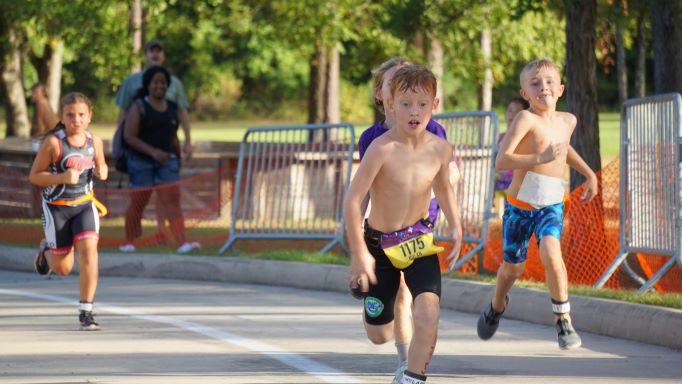 THE WOODLANDS, TX – The heat, sunlight, and too-early start time didn't stop approximately 300 kids and their families from heading to the YMCA at Branch Crossing for the 19th annual Kids Triathlon, presented by Texas Children's Hospital The Woodlands. Don't let the word 'kids' fool you; this was a grueling, intensive, no-holds-barred competition between youths between the ages of 6 and 12 to capture glory, medals, and quite possibly ice cream after the event.
More than a hundred area youth participated in an event that would outmatch most adults
"I am so ecstatic to see this turnout," said YMCA event director Roxanne Davis. "We have nearly the same turnout as last year, and their excitement and determination is greater than ever."
In its nearly two full decades of promoting fitness and confidence in children, the triathlon benefits the YMCA Annual Campaign, which ensures everyone, regardless of age, income or background has the opportunity to learn, grow and thrive at the Y.
'The triathlon provides children the chance to accomplish a goal while making new friends and feeling like they belong," said Davis. "And because proceeds from the event go to local Y programs like life-saving swim lessons and after school programs, it supports youth development and wellness beyond race day."
Boys and girls aged 6 to 9 swam 50 meters up and down the YMCA pool. Then they ran to the nearby lot to grab their bicycles and then cycle for one mile through the Branch Crossing campus. This was capped off by a quarter-mile run to the finish line where they were cheered on by family members.
Boys and girls aged 10 to 12 had a slightly longer course. Their swim was 100 meters up and down the YMCA pool twice followed by a two-mile bicycle race and a half-mile run to the finish line.
The YMCA Kids Triathlon promotes health and fitness while giving children the accomplishment along with satisfaction of completing a skillful goal. As kids from all walks of life come together, the YMCA is also promoting confidence in children to grow and make friends in the process.
Next up in the YMCA's youth summer fitness series is the YMCA Duathlon on August 13 for ages 7 through 15.