/

/

EXCLUSIVE: Famed singer/songwriter T. Graham Brown plays Dosey Doe this Sunday
EXCLUSIVE: Famed singer/songwriter T. Graham Brown plays Dosey Doe this Sunday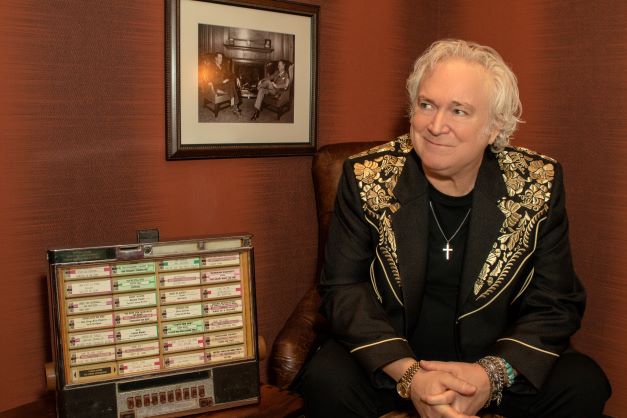 THE WOODLANDS, TX – A true music legend is coming to Dosey Doe - The Big Barn this weekend for a show that you don't want to miss. T. Graham Brown is bringing his decades of life lessons and the music that chronicled them to The Woodlands on Sunday evening.
Grammy-nominated musician sat down with Woodlands Online for a one-on-one interview
Woodlands Online was able to sit down with T. Graham (born Anthony Graham Brown) for a quick one-on-one interview as he prepared to hit Dosey Doe for his latest performance here.
"We've played The Barn a few times – four or five," he said. "I love playing this venue; it's a great place to get personal with the audience."
T. Graham has been active in the music industry since 1973. Born in Georgia, he played in some college-level bands and honed his skills until he moved out to Nashville to find his break. Curiously – and just like Barry Manilow's early career – he got steady work creating jingles for multiple companies, jingles that practically the entire country has heard over the years, including McDonald's, Budweiser, Coors, Coca-Cola, Sears, Dodge Trucks, Ford, Kentucky Fried Chicken, The Nashville Network, Dr Pepper, and many others. Chances are, you've heard his iconic, sonorous-but-raspy voice in Taco Bell's 'Run for the Border' commercials.
"I spent some time singing demos, until the McDonald's jingle went on as a Super Bowl commercial, and from that moment the phone started singing," he said. "That one and the 'Sometimes You Feel Like a Nut' Almond Joy commercial stick out with me."
After a few questions back and forth, it became apparent to us at Woodlands Online that T. Graham would frequently and readily relay a topic to his wife, Sheila, whom he married in 1980. There was an obvious easiness and deep relationship between these two, business partners as well as soul mates.
"Her greatest strength has always been putting up with me," he said when this was pointed out. "I've done some crazy things in my life, went down some dark paths, but she was always there to help me, and today she's my right hand and more."
The dark moments he mentioned include a significant portion of the 1990s, a time that he spent succumbing to, battling, and eventually overcoming alcoholism. He was dropped by his label Capitol Records after his 1991 album
You Can't Take It With You
failed to chart, followed by his next two labels opting to not put out any new instances of his work. T. Graham dedicated most of the decade overcoming his demons, and in 1998 reclaimed his legacy with the iconic return to form,
Wine into Water
, a heartrending tune of one man's plaintive plea to a higher power to put the allure of alcohol behind him.
Brown has always put heart and soul into his music, sometimes literally. His early days included a rhythm-and-blues band, Rack of Spam, and his first hit,
Tell It Like It Used to Be
, for the first time showed his heartfelt words as someone who isn't afraid to speak his mind, but perhaps a little more discreet in his memories of love. He has an upcoming soul album that's filled with multiple guests, including Sam Moore, Tanya Tucker, Wynonna, and even Sammy Hagar. "I'm very thankful they all agreed to do it," he said of his duet partners in this album. "They're all friends; there comes a point when you're old enough that you have everyone's phone number, and we all help each other and pull for each other. There's always plenty of room for collaboration."
When asked about his numerous styles and genres over the decades, he didn't hesitate with his reply. "I've always enjoyed doing different things, pursuing different styles, no matter if it's country, rock, soul, R&B, or whatever. I refuse to be pigeonholed. Though I've felt that way most of my life, now I'm at the point in my career and life where I no longer have to prove anything to anyone."
Brown credits both his wife and his faith in helping him get through his self-professed dark times, which he is constantly determined to pay forward to others. "God helped me, plain and simple," he said. "I sing
Wine to Water
in every show, and afterwards I always have several people come up to me to say that's their own story. It's my goal to get folks sober; that's what Sheila and I want to do. We're even working on a book version of
Wine to Water
, where we tell their stories and share hope."
Additionally, he is working on the completion of his autobiography. "I'd never considered writing one, but some publisher called me up and said they wanted it. Apparently, I've racked up some interesting stories over my life."
As further evidence of his desire to make the world a better place through his music and his actions, he has raised more than $300,000 for flood victims in Kentucky. He was inspired to help them when he toured the areas of devastation, and used his song title
Hell and High Water
as an inspiration to create t-shirts emblazoned with the statement, the proceeds from these sales going to the victims.
As for Brown's live show, he is fully embracing what he describes as the resurgence of '80s and '90s country music. "We'll be performing all of my own hits, as well as adding in a little Merle Haggard, some gospel, some rhythm and blues… I just might even have to sing
Sittin' on the Dock of the Bay
."
After the show, you can still listen to Brown ten times a month on his radio show
Live Wire
, dound on Sirius XM's Prime Country channel. He also maintains an active presence on social media, including Facebook, Twitter, Instagram, and even TikTok. And more information about him – as well as the ability to buy one of the aforementioned Hell & High Water t-shirts – can be found on his website,
www.tgrahambrown.com
.
"It's so gratifying that I get to still do what I do, and I hope I get to continue doing it for a long time," he said.