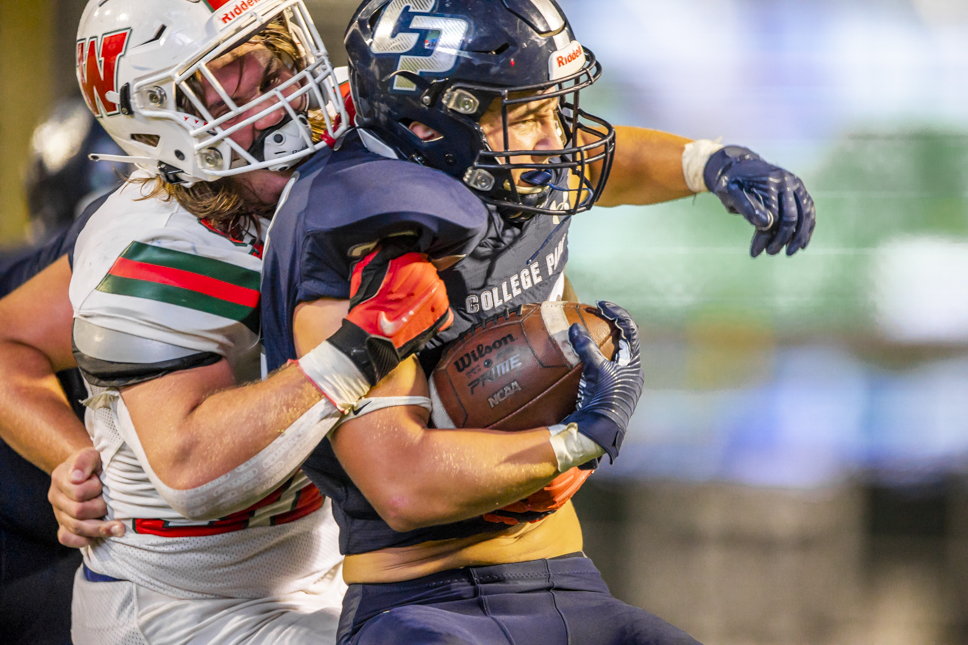 THE WOODLANDS, TX -- Another year another War of the Woods; The Woodlands Highlanders and College Park Cavaliers football rivalry. This time College Park hosted The Woodlands at Woodforest Bank Stadium. The Cavaliers are looking for a win after coming off a loss from Willis and The Woodlands looks to keep their win streak going after a tremendous win over Cleveland.

In the first half The Woodlands came out aggressive as they always do but in a turn of events, College Park resisted the run and put pressure on Mabrey Mettauer – The Woodlands starting quarterback. College Park would go as far as to pick off Mettauer in the opening drives forcing The Woodlands to bring out their defense.

With :23 seconds remaining in the 1st quarter, The Woodlands would be successful with a field goal and finally put points on the board. This would be different from last week's 35-point 1st quarter against Cleveland.

Before the half Mettauer would take it in his own hands and run it in from 11-yards out. This would put The Woodlands up 10-0 with 5 minutes left in the half.

After another back and forward exchange, The Woodlands would once again be on offense attacking the College Park redzone. Jason Williams would find the endzone with seconds left in the first half which would make the score 17-0.

Although there would be just seconds left, College Park would be able to squeeze off a field goal to put points on the board.

It was all the Highlanders in the second half as they woke up and tightened up their offense. In the first half they would be riddled with penalties but in the second they would see just a few.

Williams, Gomez and kicker Scott Starzyk would put points on the board for The Woodlands making the final score 34-3.


The Woodlands will face Caney Creek and finally Willis in the upcoming weeks, while College Park takes on Oak Ridge, New Caney and Conroe.