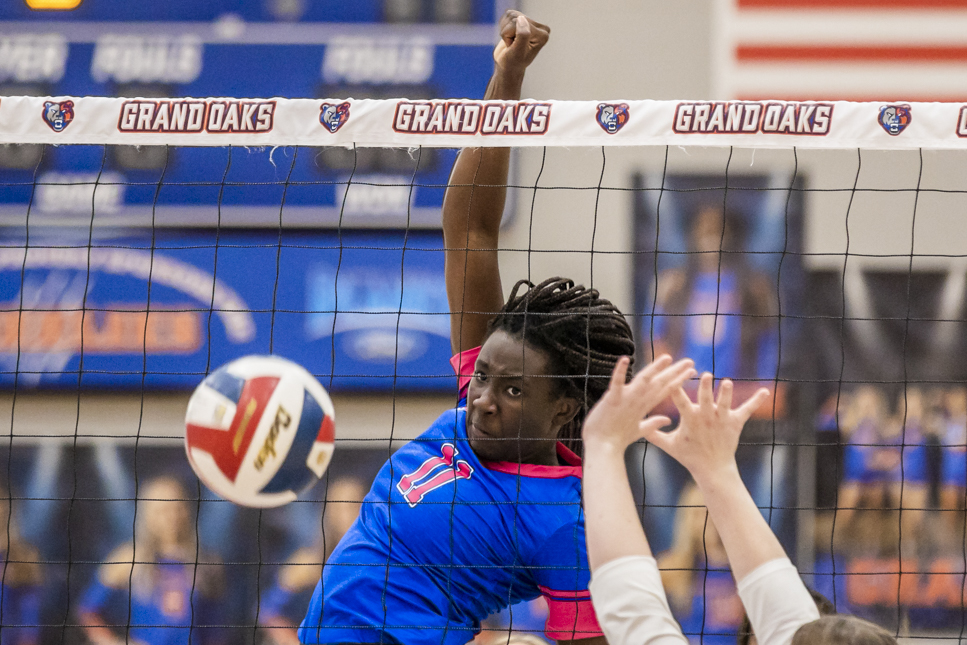 THE WOODLANDS, TX -- The Conroe Tigers traveled to south to match up against the Grand Oaks Lady Grizzlies in hopes of bringing home a win against the number 1 seed. Coach Rogers and the Lady Grizzlies hope to keep their streak going after defeating then number 1 seed, The Woodlands on the road. With a couple more games left in the district season, each coach needs to keep their girls calm but ready to take on the next opponent.

With home court advantage, the Lady Grizzlies came out aggressive in the first set and immediately took the lead. They would keep Conroe at bay the entire match as they attacked the net and weak spots in the Tigers' defense. With a possible district championship on the line, Grand Oaks played near perfect as they kept Conroe to a single digit score.


Grand Oaks takes Set 1, 25-8.@grandoaksvb @ConroeTigerVB pic.twitter.com/E1nZxqbwLo

— Woodlands Online Sports (@WOLsports) October 18, 2022
Conroe woke up in the second set as they contested the Grand Oaks' attacks at the net. They would also defend the kills from Samara Coleman, Jaela Auguste and Halle Thompson. But it was the refs who would play a roll in some points scored the rest of the match.
They started in the second as they put a few of points on the board for Grand Oaks after calling more than a few "Illegal Touching of the Net, and Ball Touched/Not Touched" against Conroe. On more than one occasion Conroe wasn't even near the net nor did the net even move after contesting some Grand Oaks' attacks. The game was delayed a couple of minutes after Conroe disputed the calls in between the services.
A couple of questionable calls but Grand Oaks is able to hold off Conroe in set 2. @grandoaksvb @ConroeTigerVB pic.twitter.com/N9xjRr7xO3

— Woodlands Online Sports (@WOLsports) October 18, 2022


But Conroe would come out in the third set poised and ready for the Grand Oaks offense. They would keep pressure at the net while tightening up their defense on the floor. It would end up being a close final set but, in the end, Grand Oaks would close out Conroe 25-21.



More questionable calls but in the end Grand Oaks sweeps Conroe in 3 sets. @ConroeTigerVB @grandoaksvb pic.twitter.com/RejJZqb7R9

— Woodlands Online Sports (@WOLsports) October 18, 2022


Grand Oaks will face Cleveland and then have a by week before going into the post-season. Conroe will also face Cleveland but College Park instead of having a by week.