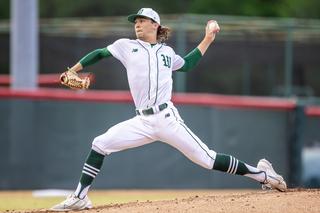 THE WOODLANDS, TX -- The Woodlands Highlanders hosted the College Park Cavaliers in the second installment of the War of the Woods on Friday night. Their first match up earlier in the week with The Woodlands defeating College Park 8-3.

In this match up it was all The Woodlands, even from the start, the first pitch in the bottom of the first to Brayden Sharp was a home run ball. This would give The Woodlands an instant 1-0 lead.

College Park was unable to answer back in the second but The Woodlands would rally in the bottom of the inning. Starting with two RBI (runs batted in) singles and finishing off the inning with an additional four runs crossing the plate.

The Woodlands would find themselves almost forcing a short game as they hit another runner in to make it 8-0 in the bottom of the third.

With another run in the fifth, The Woodlands would go into the bottom of the sixth inning needing one run to win the game. Bryce Graves would hit an absolute tank to end the game with a walk off home run. The Woodlands would win the game 10-0 and the series 2-0.

College Park is set to face Oak Ridge tomorrow while The Woodlands hosts Caney Creek at Scotland Yard.