/

/

A Night in Nashville funds Senior Meals with MOWMC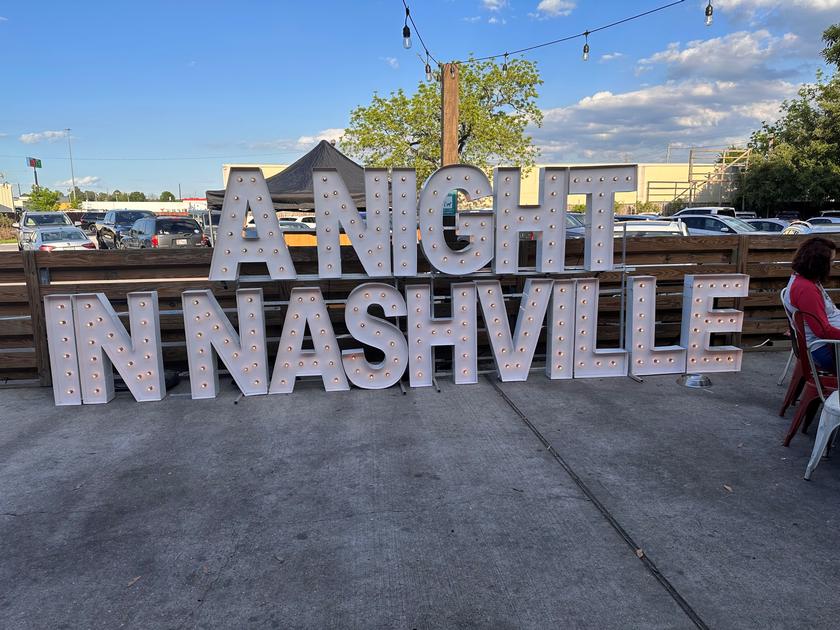 THE WOODLANDS, TX -- The community supported the 50th Birthday of MOWMC during A Night in Nashville, held at Sawyer Park Icehouse in The Woodlands April 13 raising enough funds to provide over 50,000 meals for homebound seniors!

Currently approximately 950 seniors throughout the 1000 square miles of Montgomery County rely on Meals on Wheels Montgomery County to meet their nutritional needs every week. The average age is over 70 and each senior may stay on the service for their life span, up to 10+ years. That is a significant number of meals each senior receives. How many nonprofits can say they have helped the same client 365 days/year for 10 years?

MOWMC has delivered over 250,000 meals while providing 18,321 rides to homebound seniors in 2022. The community has helped to make this possible.

For 50 years, Meals on Wheels has provided critical services for our senior population in Montgomery County", said Summer Day, President, and CEO of MOWMC. "The community's support has been an integral part of the mission from day one and we are excited to launch our second half of a century of serving our precious clients!"

Carrie Watkins, Community Development Director, and coordinator for A Night in Nashville, was moved by the comments from the seniors they serve. "It was our dream to celebrate 50 years of serving Montgomery County with our loyal supporters. We wanted to share the deeper meaning behind what we do because the real heart and soul of our organization is to hear our seniors express what Meals on Wheels means to them in their own words. I have to say, it brings tears to your eyes to hear their sweet, shaky voices saying thank you for not forgetting me." Carrie continued, "This celebration was all about honoring our local seniors and veterans and how we will continue to care for them thanks to our incredibly generous sponsors and guests."

Top sponsors for the Birthday Celebration include presenting sponsor Waste Connections, Exxon Mobile, Western Midstream, Jessica and Trey Brice, and Woodforest National Bank.

Special contributions were honored at the event:

• Community Volunteer Programs 2023 awarded to Western Midstream

• Day of Caring Corporate Partner of the Year 2023 awarded to ExxonMobile

• First Corporate Commitment Weekly Meal Delivery presented to Woodforest National Bank

Waste Connections Vice President of Engagement Solutions, Michelle Little, shared why supporting Meals on Wheels is important to their organization. "We are grateful to be able to assist seniors in our community with the Solid Gold Presenting Sponsorship for "A Night in Nashville," celebrating the 50th Birthday of Meals on Wheels Montgomery County. This amazing organization provides necessary nutritious meals to vulnerable, homebound seniors, along with curb-to-curb transportation for necessary medical exams. They truly provide more than just a meal… they even help to feed their pets.

MOWMC provides more than just a meal to homebound seniors. Volunteers provide a friendly face and a social visit as well as a safety check. These visits play a critical role in preventing depression and other health issues associated with isolation. Seniors look forward to their meal delivery which brings conversation and much-needed connection. MOWMC is also the only service to provide free transportation to lifesaving medical appointments, grocery stores, and other essential errands to seniors in Montgomery County.

"Our next major event is the Great Pumpkin Shoot, on Oct. 6 at Able's Sporting in Huntsville", said Carrie. "This was a new venue for us last year and the shooters loved the beautiful course and the opportunity to shoot at a private club. Able's was really supportive and we cannot wait to come back." Teams can reserve their spot now at www.mowmc.org/great-pumpkin-shoot. Sponsorships are also available. Contact Carrie at (936) 756-5836 or email Carrie@mowmc.org.

Each $125 dollars donated feeds a senior for an entire month. MOWMC can deliver meals to a homebound senior for an entire year at a lower cost than just one day in a hospital or ten days in a nursing home. Donate online at https://www.mowmc.org/donate.

Since 1973, MOWMC has had a successful history of delivering meals to local homebound seniors, currently delivering 31,000 meals monthly. Volunteers deliver meals along ninety routes throughout the 1,000 square miles of Montgomery County. Additionally, MOWMC's curb-to-curb transportation service provides more than 17,000 rides to the disabled and seniors annually. With a mission to foster independence and maintain the dignity of each homebound senior by providing nutritious meals, transportation, and caring connections, MOWMC can always use additional volunteers and donations. More information about Meals on Wheels Montgomery County can be found at www.mowmc.org or on the Facebook page: www.Facebook.com/MealsonWheelsMC

Volunteers are always needed to help with delivering meals, events, prepare mailings, and assist with program needs. Start a food drive, decorate breakfast bags, create personalized birthday cards, or host an office workday at the Meals on Wheels office. Email Lisa Varholy, Volunteer Relations at Lisa@mowmc.org or view www.mowmc.org/volunteer/ for details. More information about Meals on Wheels Montgomery County can be found at www.mowmc.org or on the Facebook page: www.Facebook.com/MealsonWheelsMC.