/

/

International twin brothers graduated from Lone Star College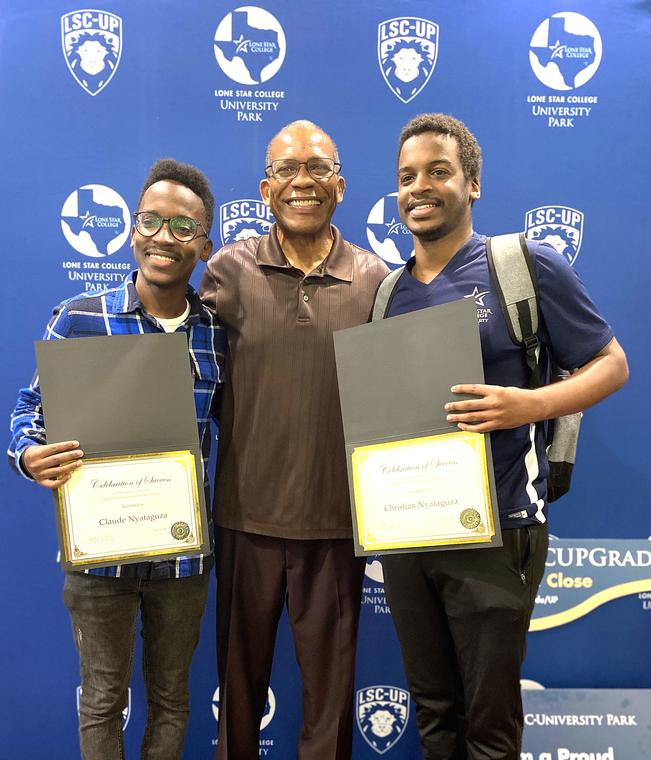 HOUSTON, TX -- Lone Star College's graduation ceremonies celebrated students' achievements. These events signaled a new chapter for the graduates as they prepare for their next steps.

"Lone Star College is incredibly proud of our graduates for their dedication to achieve their educational goals while balancing life's many priorities and challenges," said Gerald F. Napoles, Ph.D., LSC Vice Chancellor Student Success.

Christian and Claude Nyataguza, twin brothers from Uganda, are just two of thousands of students who crossed the stage last week. The LSC-University Park graduates began their college journey in Canada but quickly experienced challenges.

"Our parents sent us to Canada for better educational opportunities, but it was complicated to adjust to a big university without our family to support us physically," said Claude. "Some difficulties we faced were larger classrooms and navigating contact with professors."

The Nyataguza brothers attended boarding schools in Uganda. They were used to lessons on printed materials, smaller classes and hands-on assistance from the instructors.

"Adapting to the way of life in Canada was ok, but the educational system was different," said Christian. "In Africa, we had an extensive support system, but in Canada, we were expected to be independent at 19. This was a challenge for us because we were not prepared for the drastic switch in academic styles."

Christian and Claude moved to Texas in 2020 to be with their father, who encouraged them to attend LSC. In fall 2021, the brothers enrolled at LSC-University Park and instantly knew the experience would be better.

"Lone Star College's smaller classes fostered a better academic environment that has made it very easy for us to pick up certain concepts and form solid relationships with professors who have helped us navigate the college," said Christian.

Claude also believes LSC's student life opportunities have helped them reacclimate to college life.

"I had the opportunity to join the Student Fee Advisory Committee, which has helped improve my leadership and communications skills and social confidence," Claude said.

Ibeawuchi Uzoegwu, LSC-University Park English Professor, has watched the brothers blossom from quiet students to leading group discussions. He believes the students can conquer any challenges thrown their way.

"Christian and Claude are nothing short of brilliant, and I have genuinely learned as much from them as they have from me," said Uzoegwu. "The sky is the limit for these two, and I am interested to see what the future has in store for them and how they will grow into the leadership positions they are destined to fulfill."

The Nyataguza brothers have chosen different paths after LSC. Christian plans to attend Sam Houston State University and earn a bachelor's degree in sociology focusing on research. He also wants to obtain a master's degree in international relations and a doctorate in social work or foreign diplomacy. Christian will pursue a career in social work to give back to the community and change society on a global level.

Claude will return to Canada and to earn a bachelor's degree in accounting from York University. His career as an accountant stems from watching his parents invest in government bonds and setting up farms to produce and sell goods and animals. Claude will use those lessons to invest in different things and not put all of his eggs in one basket.

"The future is looking very bright for these two, and the world is a much brighter place because they are in it," said Uzoegwu. "When it comes to these students, success is inevitable."

Christian and Claude noted that having each other as they chase their educational, career and life goals has been a strong support system for them. They jokingly say they are each other's biggest competition and biggest supporter.

The Office of International Programs at LSC provides innovative education and customized support to international students who want to start or continue their college education. In spring 2023, LSC welcomed 2,825 international students from over 100 countries.