College Park's USMC JROTC Wins the All Service National High School Drill Team Championship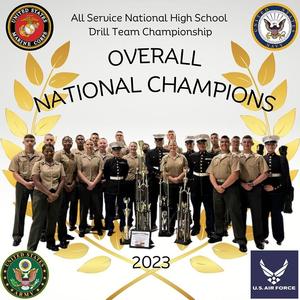 THE WOODLANDS, TX -- Meet your 2023 All Service National Champions, the Texas Greenhorns from The Woodlands College Park High School in The Woodlands, TX. So what does it take to build a Division 1, Master level Armed Drill Team?

Commitment.

9 years ago the USMC JROTC unit was approved at College Park. Hiring Sgt. Major Christopher Combs, they began the journey of creating an exemplary JROTC program in The Woodlands, TX. In 2020 their JROTC drill program was paused due to COVID but when normal activities resumed in 2022, they came out swinging, or should we say spinning, and won the All Service National High School Drill Team Championship. As they reentered the drill world, many said their accomplishment of winning the competition was a fluke since they had only won by a mere 8 points. So what do you do when your accomplishments have been challenged? You start from the bottom and win it all.

This 2022-23 school year, the College Park Texas Greenhorns, led by Sgt. Major Christopher Combs and Lt. Col Nicole Mauery, began the season with the intent of showing the drilling community that their win wasn't a fluke but rather due to their commitment to the team, hours of practice, and love of the sport. They began their season in August by practicing, five days a week from 3:30-5:30 pm. These cadets would finish the school week and on the weekend, on their own time, practice moves, spins, and military knowledge just to stay sharp for their upcoming competitions. January 2023 in Dayton, Texas the Texas Greenhorns had their first drill competition of the year winning Overall Champions. While it was their first competition of the season, it gave them good practice for their next important event in February, the USMC JROTC Regionals in Allen, TX. The Texas Greenhorns showed up and dominated! They won Overall Champions granting passage to compete in the National USMC JROTC High School Drill Competition.

They now had a little under two months to prepare and fine-tune their card so that they could compete against the best USMC JROTC programs the nation had to offer. They traveled, by bus, to Fredericksburg, VA mid-April and showed their commitment to hard work and military knowledge to the nation. While the competition was fierce and the pace of the events challenging, the Texas Greenhorns once again showcased their talents and won Overall Champions! What was left for them to win? How about winning the All Service National High School Drill Team Championships held in Daytona Beach, FL? Challenge accepted.

For those unfamiliar with the JROTC drilling world, the All Service NHSDTC is known as the oldest and largest all-service drill competition sponsored by the U.S. Army Cadet Command. The event consists of high school JROTC programs ranging in ability levels from ALL four service branches: Army, Airforce, Navy, & Marines. Judges known as the best of the best are flown in specifically for this event. The drill competition weekend consists of both Armed & Unarmed divisions where they are asked to undergo: Inspection, Regulation, Color Guard, & Team Exhibition. This type of competition allows schools the opportunity to compete against other JROTC programs that might be similar to their own and see who comes out the strongest. The level of expertise in these events is intense, to say the least, and everyone shows up to win.

After two days of vigorous competition, the College Park Texas Greenhorns sat in the Ocean Center Arena and awaited the results amongst the parade of other JROTC programs. Texas is prolific in schools with talented JROTC cadets and came out with most of the wins but the school that shown brightest that evening was our very own Texas Greenhorns! A mere three weeks after securing their place as the Overall Champions in the USMC JROTC National Championship, these cadets showed us their ability to step up their game and increase their efforts and prove, once again to the nation, that last year's win was no fluke. It was the result of their commitment to the program and to each other as a team. It was in enduring long hours of practice, cuts, and bruises, that they showed the drilling community what it takes to become champions. They didn't win this competition by 8 points. They crushed it by a margin of 100+ points. A fluke? We think not. They ARE Champions and deserve to be recognized. Their principal, instructors, and special teams, along with parents, and friends believed in them. The cadets believed in their abilities and in each other and because of their commitment to hard work, have now clinched Overall Champions in less than two years, three times. Truly a feat worth recognizing.

We ask that if you happen to run into one of these cadets, or aforementioned instructors/supporters, please shake their hand, give them a firm pat on the back, and congratulate them for a win well earned. Texas Greenhorns, you are true National Champions in the drill world and in our hearts. You have set the bar very high and have earned everyone's admiration and praise. Congratulations, keep working hard and see you next year. We cannot wait!