/

/

Conroe ISD Campus Updates: November 13-19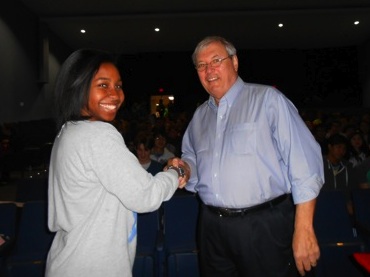 CONROE, Texas -- Conroe Independent School District reports on campus updates for The Woodlands area schools from November 13-19.

Birnham Woods Elementary School

Come show your Bulldog Spirit as we celebrate Spirit Night at Spring Creek Barbeque on Wednesday, November 13 from 5-9:00 p.m. Our specials teachers will be passing out hot rolls to tables as they greet students and families. This is an event not to be missed! A portion of the proceeds will benefit BWE's Art, Physical Education, Music, Library and Computer departments. On November 14 and 15 our Fourth Graders will make a visit to Lone Star College. November 18 begins Texas Generation Week. Students will have the opportunity to explore a variety of career paths and begin thinking about their future of education beyond high school. Students will get inspired by hearing parents and other supporters tell their stories, introduce a variety of careers and find out how more education means better opportunities.

Broadway Elementary School

November 11-15 we will be examining the character trait of Caring at Broadway Elementary School. The school is involved in a project of making placemats for those people that will be in the hospital at The Woodlands Memorial Hermann during the week of Thanksgiving. We will deliver them to the hospital the week prior to Thanksgiving.

Another project that our P.E. department under the direction of Deanna Mays and Jonah Lambright is called Stock Up and Stack Up. They will be joining schools all over the country in stacking cups while also collecting canned goods to help stock up the Montgomery County Food Bank.

On Friday, November 15, the third grade will be watching a Dictionary Program at the school.

Tuesday, November 19 we will be celebrating Generation Go Get It Texas by wearing a College T-shirt to school.

Thursday, November 21 is our Kindergarten Thanksgiving Feast and on Friday, November 22 is our first grade Thanksgiving Feast.

The following children received a Principal High Five: Eli Washam, Madison Bauer, Michael Sowers, Chase Nguyen, Abby McPheeters, Pierce Picklo, Cameron Hankins, Emily Walton, Natalie Bruschke, Olivia Uno, and Kandice Lopez.

Buckalew Elementary School

Congratulations to the following students who received a "Principal's Award" medallion for demonstrating our Keys to Success: William Barrass, Hazma Burhan, Dylan Day, Luke Devlin, Garrett Falast, Marta Di Mondgno, Court Gustafson, Jessica Hinojosa, Christian Pierce, and Alex Smeader.

Congratulations to our Box Top Winners! Kindergarten, Mrs. Bernu's class; first grade, Mrs. Maxwell's class; second grade, Mrs. Dillow's class; third grade, Mrs. Garrett's class; and fourth grade, Mrs. Points' class. Together we collected almost 17,000 Box Tops the first nine weeks of school. Keep collecting Box Tops and Labels for Education and earn cash and supplies for our school!

The annual Fall Book Fair will take place the week of November 11-14. There will be hundreds of books to choose from, including new favorites, old classics and Bluebonnet award winners. Come support Buckalew and your family's love of reading!

Mark your calendars, the third grade music program, 'Spaced Out!' will be presented the evening of November 14 at 6:30 p.m. – it's going to be terrific!

On November 15, students will participate in the much anticipated annual Turkey Trot during their P.E. class.

Bush Elementary School

Our next Box Top Friday will be on November 15.

Class pictures and retakes will be on Tuesday, November 19.

Congratulations to the following students for receiving the Humanitarians Award for the month of October: Marlee Price, Sophia Hutchinson, Charles Royed, Derek Zarur Cervantes, and Nathaniel Nolan.

Collins Intermediate School

On Saturday, November 2, Collins Band Students auditioned for the CISD District Honor Band. Collins had 30 students make the band, which was the most from any school. The following students were accepted into the CISD Intermediate Honor Band: Veronica Attar, Kayla Dixon, Abhishek Choudhury, Sunny Yu, Grace Pelletier, Sean Keene, Mat Styer, Abby Onofrio, Colin Sundin, Andy Grifno, Ethan Dellmore, Ray McDonald, Alexandre Habib, Sam Mason, Joseph Cahill, RJ Malone, Dylan Boyter, Andrew Lutz, Jeannette Dimpel, Aiden Ellender, Dylan Frye, Mark Murrell, Mason Simpson, Drew Long, Maggie Asare, Amanda Kott, Jack Sheffer, Kathy Cruz, Connor McGrath and Jaycie Draeger. Named as alternates were: Ian Widener & Bryant Duncan Additionally, these students earned the first chair in their sections: Sunny Yu, Ethan Dellmore, Sam Mason, Alexandre Habib, Joseph Cahill and Drew Long. They will be performing a concert January 11, 2014. Congrats to all the students that auditioned! We are proud of them all!

Cox Intermediate School

Timberwolf teachers are Recognizing Our Committed Kids. Teachers are keeping their eyes out for students who are making great choices in behavior. Congratulations to the following students, YOU ROCK this week. Lexi Martinez, Christian Zurita, Matt Dunn, Javier Sanchez, Lauren Beaty, Madeleine Ward, Carson McElroy, Logan Cardenas, Parker Payne, Luis Quiles, Marcus Adams, Cameron Barfield, Jacob Miller, Ashlynn Maggard, Victoria Verdejo, April Ruiz, Rachel Sowa, John Paez, Madeline Holubek, Carmen Hernandez, Deavin Roland, Styvin Ortiz, Callyssa Brooks, Kyle Newman, Gaby Macias, Connor Greenwalt, Cash Kowis, Jacob Quirk, Kaley Torres, Brynley Love, Jack Bruner, Marah Norris, Christopher Miller, and Estevan Gonzales.

Timberwolf band directors would like to congratulate the following students who were selected for the Conroe Independent School District Honor Band. Rachel Sloat on Flute, Marissa Mason on Clarinet, Macy West on Clarinet, Ryan Comeaux on Trumpet,Zeke Cullivan on Trumpet, Erin Daulton on French Horn,Austin Crabtree on Trombone,Virginia Batres on Trombone, Sophia Mar first chair on Tuba, Joshua Ford on TubaBlair Jehle on Tuba, Bryce Jackson on Percussion, Hannah Nesbit on Percussion, and Jacob Quirk alternate on Percussion.

David Elementary School

Our Dynamite Dolphins for the month of October were recognized last week for showing courage. They are: Camryn Stockey, Alama Van Dusen, Thomas Rickard, Poppy Godbolt, Charlotte Leijnse, Maeli Everhard, Jacob Smith, Alexandra Zaczyk-Pal, Zada Brown, Ishbel Mitchell, Carmen Van Dusen, Jacob Connor, Arianna Pierce, Zoe Fenley, Clarissa Valdez, Ahtziri Rodriguez, Jack Kirkpatrick, Colten McCrae, Jacob Perugini, Josh Gaylard, Brenton Borel, James Wherry, Gene Bialkoski, Koveil Simmons, Mason Paslay, Andrew Evans, Seb Witteveld, Riley Richardson, Grant Lothringer, and Lana Jacquemin. Congratulations, Dolphins!

Deretchin K-6 School

Join us at Deretchin for Fall Family Fun Night on November 15 from 5-8 p.m. Events and activities include: rock wall, inflatable slides, obstacle course, cake walk, live and silent auctions, face painting and photo booth. For more information please visit www.deretchinpto.org.

Volunteers are needed for the Deretchin PTO. Sign up at http://vols.pt/U9oA2i. We encourage all parents to join the Deretchin PTO. There are a variety of events and opportunities that allow for every parent to get involved and have fun partnering with your child's school!

November 19 Grade level assemblies will be held in the Deretchin cafeteria.

Ford Elementary School

Veterans' Day Lunch will be held on November 11. "Don't forget to thank a vet!"

WATCH D.O.G.S. (Dads of Great Students) will meet on November 14, at 6:30 p.m.

Make-up picture day is November 14.

Galatas Elementary School

"Back to Your Future Day" will be on November 19. The day's activities will help educate students on the importance of pursuing higher education.

Glen Loch Elementary School

Thank you to First Choice Emergency Room for donating bananas and water for all students to have after they ran their Gator Run laps. Thank you to all of our wonderful sponsors who helped to make the Gator Run such a big success. The Gator Run raises money for the Parent Teacher Organization while students learn the fun of running and exercise.

Glen Loch students in kindergarten through fourth grade attended the Children's Festival at the Cynthia Woods Pavilion on Thursday November 7. Thank you to Talisman Energy for their generous donation so all the students could attend this event.

The Gator Takeover of Buffalo Wild Wings is on November 13 when a portion of the proceeds will be donated to the Parent Teacher Organization.

Plastic bag recycling has started. Bins are located just inside the front doors. Last year Glen Loch won an outdoor bench from collecting recycled plastic bags.

Hailey Elementary School

STAAR Information night will be held Thursday, November 14 at 6-7 p.m. in the school gym. Parents, particularly of third and fourth graders, are encouraged to attend and learn valuable tips for supporting student success on this important state test.

Book Fair Family Night will be Thursday, November 14 at 5:30-7:30 p.m. in the school library. The Fall Book Fair will be November 15-20 at 8:30 a.m.-2:30 p.m. daily.

Generations Texas Week is coming November 18-22 with activities and lessons aimed at encouraging children to dream big about their future, plan for education after high school, and pursue meaningful careers. Please watch the Hailey Parent Update and notes home for more information.

Students are encouraged to bring aluminum cans for recycling every Friday for the Cash for Cans program.

Hauke Alternative

Nov. 14 will be Hauke Readers.

On Nov. 14 we will have our Thanksgiving dinner.

Parent Meeting will be held on November 15.

Irons Junior High School

The school play titled "The Rehearsal" will be at 7 p.m. on November 15 at Irons Junior High. The last performance will be at 3 p.m. on Saturday, November 16. Student price $2 and Adults $5. Conroe ISD employees and their immediate families are free with CISD ID badge.

Generation Texas week will be November 18-22. During this week Irons Jr. High will be creating awareness of college & careers. Monday will be "Your future is bright" so wear neon/bright colored clothes. Also, during lunch the Lone Star college will be here. Tuesday will be "Back to your future day" so wear your favorite college t-shirt or jersey. Wednesday will be "A salute to armed forces" because your education is worth fighting for. Wear red, white and blue or camouflage. There will be an Army Presentation during lunch. Thursday will be "Hats off to education" so wear a college cap or hat to school. Friday will be "We are crazy for College" so have a Crazy Hair day.

Kaufman Elementary School

The second half of fourth graders will take a field trip to the Sam Houston Museum on Wednesday, November 13.

There will be a PTO meeting at 6:30 p.m. on Monday, November 18.

Third grade will be participating in the Dictionary program on Tuesday, November 19.

Knox Junior High School

The Chamber Orchestra competed at the Texas Renaissance Early Music Festival on Tuesday, November 5. The group earned the first place award for the third year in a row.

The students who were Never Ever Absent or Tardy (N.E.A.T) were honored at an ice cream social on Friday, November 1. There were 334 students in attendance. Over 300 students received Straight A's for the first nine-week grading period. The students were honored with a breakfast on Friday, November 1, 2013.

The seventh grade White football team won the 2013 District Championship title. The team was undefeated in district play.

McCullough Junior High School

Each year students in eighth grade history choose a United States veteran to honor. Students interview the veteran and then make a poster identifying the branch of the military they served in, their years of service, and other key features. With the help of our Parent Teacher Organization volunteers, the posters are then displayed in front of the school during the week of Veterans' Day. This year the posters will be on display from November 8 through November 17. Please invite your friends, family and especially any veterans you know to come and see this impressive display of posters honoring over one thousand veterans.

The library is hosting a used book swap. Students may begin bringing in two used books in good condition from November 14 through November 20. On November 21 and 22 those students may then pick out two books to take home.

Mitchell Intermediate School

Fifth grade students will take a field trip to Ball Corporation Metal Packaging Division in Conroe. LC 5 will be going on November 13 and LC6 will be going on November 14. Every year the sixth grade Ambassadors have a great opportunity to participate in our community service project. We collect food items at school and then fill boxes that will feed 50 families in the Travis Intermediate School area. They will travel to Travis Intermediate on November 15. They will meet the Student Council Represent ivies from that campus and take a tour of the school. They will fill decorated boxes with the donated food and play some games. Finally, they will all gather in the beautiful library at Travis for pizza, juice and cookies. It is a wonderful experience for the students, and the families that receive the boxes, are so appreciative. Thank you so much to our Mitchell families for helping 50 other families have a great Thanksgiving.

The Parent Teacher Organization will have a Silly String Incentive Reward for their cookie dough fundraiser on November 15 at 2:15 p.m.

The Magnificent Mustang Ceremony will be held on November 19 at 9:30 a.m. in the Commons.

Sixth grade students will present a Wax Museum representing famous people in history. LC 12 will present theirs on November 18 and LC 9 will present theirs on November 19 at 6:30 p.m. Second quarter Progress Reports will be distributed on November 19.

Oak Ridge Elementary School

Thursday, November 14 will be Oak Ridge Elementary Spirit Night at Sk8 Town. Skaters are welcome from 6 – 8 p.m. Admission is $6.00. Part of the night's profits will be given to the school.

Oak Ridge Elementary Physical Education Department is hosting a food drive November 4 – 20. Non-perishable items can be taken to the gym to donate to those in need this holiday season.

Oak Ridge High School

The Debate team traveled to Gregory-Portland High School in Portland, Texas this past weekend with many of our students earning points for state. Oak Ridge High School was ranked sixth overall out of 33 schools at this meet.

Please congratulate Ericka Bartusek for being selected to compete in the Daughters of the American Revolution essay contest. She will represent Oak Ridge High School at the district scholarship competition. Good luck Ericka! Public Speaking candidates Maggie Roberts (Junior) and Randi Haydon (Junior) participated at the State Fair of Texas and Maggie placed forth and Randi placed sixth. Great job ladies!

Senior, Kelli Sharp who is the current ORHS FFA President, recently won Overall Grand Champion Heifer at the October 12, 2014 Houston Livestock Show and Rodeo Calf Scramble Progress Show held in Humble, TX. In order to participate, a student must have previously (in the spring of the same year) caught a calf at the HLSR Livestock Show and Rodeo while representing ORHS FFA. They are given a voucher certificate worth $1500 and must purchase either a steer or heifer to raise for the entire year until the following rodeo season. At that time, the student must come back and participate and show that animal with HLSR. Only those participants who were calf scramble winners were eligible to show at this venue. Kelli not only won Exotic Grand Champion Division Heifer, she then came back to win the entire show! Kelli received numerous awards such as 2 HLSR belt buckles, $500 scholarship, leather halter, embroidered bag, and custom HLSR vest. Way to go Kelli and Starr!

Powell Elementary School

Third grade will be having their field trip to Jones Park and Nature Center on Friday, November, 15.

Kindergarten Poison Program will be held on Friday, November 15.

Generation Texas Week begins Monday, November 18 with "Career Day" and "Back to Your Future Day" on Tuesday, November 19.

Ride Elementary School

Ride News Support the Troops Drive during the month November. Sally K. Ride Elementary will be collecting the following items in the drive: chap stick, lip balm, travel size toiletries such as body wash, lotion, toothpaste, mouthwash, and shampoo, nail files and clippers, eye drops, vitamins, cough drops, baby wipes, crossword puzzle and Suduko books, travel size dominos and board games. Drop off any of the above mentioned items in a box in the front hallway.

Our kindergarten students will enjoy a trip to 7 Acre Farms to learn about agriculture and their environment. Thank you to our PTO and 7 Acre Farms for providing us this opportunity. Come and enjoy our 4th grade program, Texas History, on Nov. 14 at 6 p.m.

Students will be receiving progress reports Nov. 19.

Snyder Elementary School

November 18-22 is CISD's Generation Texas week. Snyder students will be learning about different careers throughout the week. If you would like to participate by talking with students about your career please email your child's teacher.

November 19 from 5-9 p.m. is Snyder Spirit Night at Chuck E. Cheese. Please join us for a fun night!

The Woodlands Ninth Grade High School

Progress Reports go out Thursday, November 14.

Thank you to all who contributed to the recent food drive benefitting the Interfaith Food Pantry. TWHS provided more than 14,000 pounds of food. Great job Highlanders!

The Montgomery County Book Festival is sponsoring a writer's workshop, The Craft & Business of Writing: Everything You Wanted to Know about Writing, on Saturday, November 16 at Lone Star College - Montgomery.

Vogel Intermediate School

Recently, some of Vogel fifth grade classes were visited by Veterans who are members of Team Red, White and Blue. The Veterans answered questions about their military experiences. There were both men and women who have served our country by protecting our freedoms. They have been to other countries such as Iraq, Germany, Afghanistan and Kosovo. Students took notes which will be presented on their Veteran's Day Posters and displayed in the fifth grade hallways and our cafeteria in celebration of Veteran's Day. We appreciate our Veterans for their service, for their time spent with us and we give a huge thank you to Mrs. Jessi Richards for organizing the visit.

Our Leadership Club will be kicking off their Thanksgiving Drive to support families throughout Montgomery County. All items collected will be donated to the Montgomery County Food Bank. This successful drive last year filled our stage area with the generous donations of our Texans and their families. We appreciate our Leadership Club for their hard work in making this assistance to our community successful. Way to go Vogel Texan Band!

November 2, some of our band students participated in the CISD sixth grade honor band auditions. The honor band auditions are challenging and take lots of preparation. We are very proud of our students for spending the time preparing the audition materials and making a commitment to represent our band program and campus. We congratulate the twenty-two students for making the CISD honor band! Congratulations also to our awesome band directors, Jennifer Brown, Lauren Carter and Tiffani Reynolds.

Wilkerson Intermediate School

Group and individual retake pictures are scheduled for Thursday, November 14. Look for ordering information in the Tuesday/Newsday folder.

Generation Texas week is November 18-22. We will be discussing higher education and goal setting.

York Junior High School

The Liberty Babes Drill Team will be sponsoring the first dance of the school year. The theme is "Starry Nights". It will be held Friday, November 15 from 7-9 p.m. in the cafeteria. Attire is casual and must be within dress code.