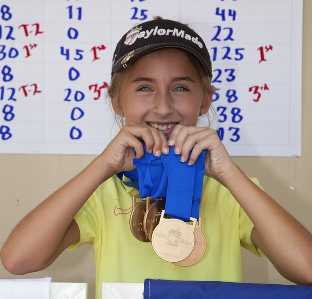 THE WOODLANDS, Texas -- Sky Sudberry, 9, of The Woodlands, Texas is one of 88 junior golfers from across the United States and Canada who have earned an invitation to Augusta National Golf Club for the inaugural Drive, Chip and Putt National Finals on Sunday, April 6. Founded in collaboration by the Masters Tournament, the USGA and The PGA of America, the Drive, Chip and Putt Championship is a free, nationwide golf development initiative open to boys and girls ages 7-15.
Nine-Year-Old Sky Sudberry to Participate in Inaugural Drive, Chip and Putt National Finals Golf Channel to Televise Exclusive Live Coverage on Sunday, April 6 at 8 a.m. (EST)
Sudberry is headed to the home of the Masters for the first time as a competitor after winning her age division by 51 points at the regional qualifying event. This was the largest margin of victory by any of the 88 championship participants. Earlier this year, Sudberry also appeared in the Justin Timberlake-produced Netflix documentary "The Short Game."
"Generations of players have been inspired by the dream of sinking a winning putt on the 18th green at Augusta National," said Billy Payne, Chairman of the Masters Tournament. "These 88 talented kids now have an exciting opportunity to make that dream a reality and inspire more young people to play this great game."
The road to Augusta, Ga., began with local qualifying, which took place at 110 sites during June and July of 2013. The top two finishers in eight different age/gender brackets from each local qualifier advanced to regional qualifying, which was conducted in 11 regions throughout the month of August of last year.
"Together with our partners at the Masters Tournament and The PGA of America, the USGA believes in opening up the game and harnessing the power of golf to make a long-lasting impact on the lives of our kids," said USGA Executive Director Mike Davis. "I can't think of a better way to inspire young golfers than this exciting chance to follow in the footsteps of the game's iconic heroes."
"It was incredible to witness Drive, Chip and Putt in action at our facility," said PGA Professional Scott Cory of Cypresswood Golf Club in Spring, Texas. "Whether the kids were making a putt, chipping it close, or hitting a drive down the middle, it was extremely rewarding and everyone involved had a lot of fun. We believe Drive, Chip and Putt will create memories for a lifetime for these kids, as they truly are the future of our game."
Golf Channel will televise exclusive live coverage of the Drive, Chip and Putt National Finals starting at 8 a.m. EDT, with an hour-long, pre-game show featuring highlights and interviews. Four hours of coverage will follow from 9 a.m.-1 p.m. EDT, with Rich Lerner providing play-by-play alongside analyst Peter Jacobsen and with Charlie Rymer, Steve Sands, Curt Byrum, Michael Breed and Kay Cockerill reporting from competition venues.
To learn more about the Drive, Chip and Putt Championship, including the official rules, visit www.DriveChipandPutt.com.