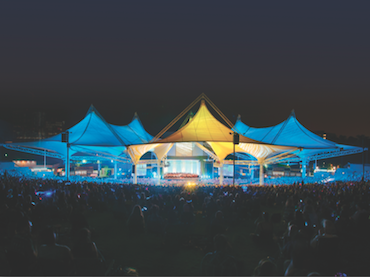 THE WOODLANDS, Texas –The Cynthia Woods Mitchell Pavilion has entered into a five-year relationship with Huntsman Corporation as the Presenting Sponsor of the venue. The name-under-title sponsorship provides for additional funding for The Pavilion's performing arts events and educational outreach programs. Huntsman has been a supporter of The Pavilion's performing arts and education programs since 2006.

"We relocated our global headquarters to The Woodlands in 2004 and we now employ more than 1,000 associates in business management and administration, research and technology and manufacturing across three locations in the area," said Peter Huntsman, president and CEO of Huntsman. "We are deeply committed – both as a company and individually – to many of the charities and civic organizations in the community and we're fully supportive of the great work that is being done at The Pavilion. We are proud to be associated with them."

Representing the Mitchell Family Foundation and current member of The Pavilion board of directors, Grant Mitchell said, "We are pleased with the closer affiliation with Huntsman and the benefit this sponsorship will bring to The Pavilion."

"We are delighted about Huntsman coming on board as our presenting sponsor", said Jerry MacDonald, president and CEO of The Pavilion. "Huntsman has supported The Pavilion for many years and this commitment is going to benefit our arts and education programs tremendously. We look forward to a long-term mutually beneficial relationship."

Huntsman is a publicly traded global manufacturer and marketer of differentiated chemicals with 2013 revenues of over $11 billion. Its chemical products number in the thousands and are sold worldwide to manufactures serving a broad and diverse range of consumer and industrial end markets. Huntsman operates more than 80 manufacturing and R&D facilities in 30 countries and employs approximately 12,000 associates.

This year marks The Cynthia Woods Mitchell Pavilion's 25th Season of presenting exceptional performing arts events, educational outreach programs and live music.